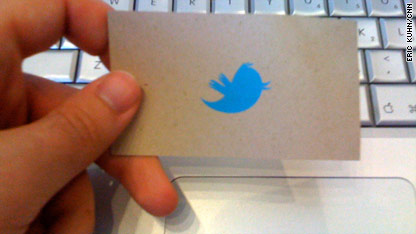 Ever since Twitter made a big splash at South By Southwest in 2007, the micro-blogging site has seen a lot of milestones. The site has won support from celebrates like Oprah and Ashton Kutcher, signed search deals with Google and Yahoo!, recently hired their 140th employee, and even had the 10 billionth tweet sent out early in March.
But the hip, San Francisco company was missing something that, in the general business world, seems rather basic: It never had business cards. Employees just gave out their Twitter names instead.
But that, too, has changed. At SXSW this year, Twitter employees are handing out paper business cards just like the rest of us. Instead of eggshell white, the company went with an earthy brown color for its cards.
That may seem like a silly bit of news, but first consider the context. At SXSW, everything is going digital. Instead of handing out cards, many tech professionals just download a smartphone app called i-Nigma and then scan a barcode on other attendee's name tags. That person's contact info automatically downloads onto the phone. Others use an iPhone app called Bump, which, when two phones are tapped together, exchanges a business-card's worth of data through the air.
A Twitter spokesman poked fun at the idea of business cards even as he listed the benefits of paper-based networking.
"This antiquated thing called 'business cards' is a helpful way for some of us to bridge our online and offline worlds with potential employees, partners and the thousands of developers who make Twitter applications," said company spokesman Sean Garrett.
So, is paper really the new mode of social networking? Next thing you know, maybe Twitter employees will be spotted in ties.
Posted by: Eric Kuhn for CNN.com
Filed under: Twitter