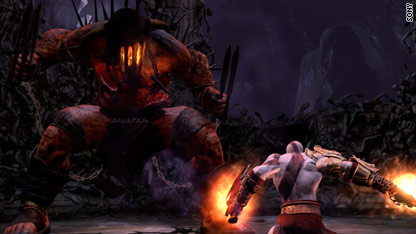 God of War 3
Editor's note: Geek Out! posts feature on latest and most interesting in nerd-culture news. From sci-fi and fantasy to gadgets and science, if you can geek out over it you can find it on Geek Out! Look for Geek Out! posts on CNN's Marquee and SciTech blogs.
"God of War III" is officially out today, and scores of gamers are no doubt fighting fatigue after waiting in line last night to get their hands on this highly anticipated game. "GOW III" follows a warrior, Kratos, who has a serious beef with the ancient Greek gods. He battles zombie warriors, minotaurs, ogres and other mythological creatures on his way to exact revenge. And when he gets to the gods, "God of War III" gets really good.
Two of CNN.com's resident gamers, Larry Frum and Dereyck Moore, have played the game and are raving about it. *SPOILER ALERT* If you're one of those people who don't want to know about the gory, HD details, look away now. For those of you ready to find out specific details and gameplay, read on!
Larry Frum, one of our bloggers, got his hands on an advanced copy of the game. Here's what he had to say:
"God of War III" is spectacular in all facets of the production. From the graphics to the gameplay to the story itself, the team at Sony Santa Monica really put their all into making this game worth the three-year wait.

Boss battles are with various gods and defeating each has far-reaching consequences. Beating Poseidon, god of the sea, causes the oceans of the world to rise. Killing Apollo, the god of the Sun, darkens the skies and blocks out the light. Breaking the neck of Hera, wife of Zeus, causes all plant life to die. This game is all about making the Kratos series bigger.

There are new weapons to use, new magic to unveil and new combinations to dazzle opponents. Kratos can strike with Hercules' gauntlets, and then use Army of Sparta magic to fend off opponents, before finishing them off with the Nemesis Whip.

Indeed, the scale of the game is probably the most impressive aspect of "God of War 3". Battling gods on top of Titans while other Titans are climbing Mount Olympus and watery horses rise up to try to drown Kratos – it can be a bit overwhelming.

It is difficult to stop playing at any given point in the game. Even after boss battles, I find the story pulling me along to the next sequence without feeling rushed. This is a game that I want to play because I will enjoy the challenges, battles and cinematics. But more than anything, I want to know how it ends. And that's what compels me to go forward.
Dereyck Moore, a member of our Digital Business Integration team, waited in line last night for his own copy of the game, and couldn't wait to start playing. Here are his impressions:
I left the store with my copy in hand at about 12:10 am. By 12:30 am, the PS3 was fired up, and so was I. From the moment the game began, it didn't just feel like watching any old movie, it was a movie of considerable size and scale. It felt "Avatarish."

Scale has always been an integral part of the "God of War" trilogy storytelling, and with the Sony Playstation 3's ability to produce unparalleled graphics and sound, "God of War III" is a complete assault on the senses. Every drop of blood from the hoards of Kratos' victims is visible and distinct, as is the way he can dismember one of them, or one hundred of them. The scenes depicted bring many of the traditional Greek mythological buildings and characters to life in breathtaking detail and artistry.

Did I mention the sound? The game does an outstanding job of accentuating the strength, might and willpower of its central figure to endure all that he sees and experiences. No titan is too large, and no foe is too gigantic to deter the will of Kratos, and it sounds like it. As he fights his way through these unimaginable worlds, the detail of every crunch, every grunt and every blade slicing an enemy can be heard perfectly in stunning quality. At the same time, his footsteps in a darkened corridor or an enormous chamber reflect the depth of the space compared to the action he's facing, and those sounds are equally as impeccable. The game's music soundtrack completes the mood, and it is also outstanding.
Have you gotten your hands on "GOW III" yet? If so, what do you think so far?
Filed under: Geek Out! • video games