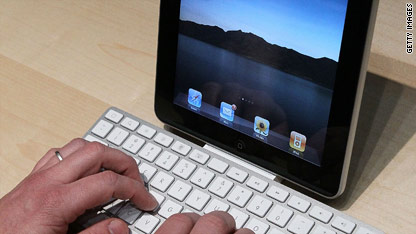 If you plan to pick up an Apple iPad the day it's released, it looks like you'll have to put up with typing on its touch-screen keyboard for at least a month.
According to Apple's product Web site, the iPad keyboard accessory - which lets people peck away on a tactile keyboard instead of on a full-size touch-screen - will not be available for purchase until May. The Wi-Fi-connected version of the much-anticipated iPad, which is essentially a laptop computer with a touch-sensitive screen and no keyboard, is available for pre-order now and will ship to the public on April 3. (Thanks to AppleInsider and Electronista for picking up on this first). The iPad does have a Bluetooth connection, leaving open the possibility that you could connect another type of wireless keyboard to the iPad.
As I pointed out in January, the iPad's full-size, touch-screen keyboard feels a bit goofy at first. I don't look at my hands when I type, and on the iPad there's no way to make sure your fingers are tapping the right keys without looking down to check. The whole screen is glass, so you can't feel the difference. Other people apparently feel the same way about touch screens. An industry analyst who sat next to me at the iPad unveiling in San Francisco literally screamed with joy when Apple CEO Steve Jobs announced the company would sell keyboards with the iPad.
It still appears they will. You just might have to wait a bit.
Other iPad accessories have been delayed, too. Ars Technica notes that a camera connection accessory is "currently MIA." MacWorld says an iPad case has been delayed to mid-April.
What do you think? Will not having a keyboard at launch hurt iPad sales? Will it make a difference in your decision about whether or not to buy the device that Apple has called "magical and revolutionary?"
Posted by: John D. Sutter -- CNN.com writer/producer
Filed under: Apple • iPad