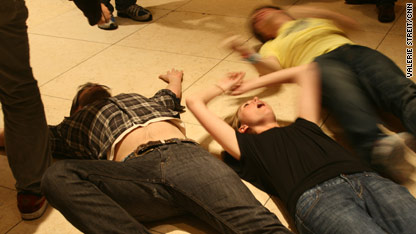 You see plenty of tech company founders and CEOs at South by Southwest Interactive in Austin, Texas – many of them building empires at the age of 20.
But you don't see very many "suits."
In fact, the prototypical SXSW executive probably looks more like a hipster than a businessman – sporting jeans, some trendy t-shirt and striped sneakers.
And, to make things all the more bizarre, you might even stumble upon one of them writhing around the floor of the Hilton lobby, as I did this year at the annual tech convention.
(This video will make it all make sense).
The executive, who was fully embracing the non-square nature of SXSW, was Foursquare co-founder Dennis Crowley. I spotted him in a spontaneous backstroke competition across the hotel lobby floor at 2:30 in the morning.  And, no, there wasn't a swimming pool involved.
Danny Newman of id345, an idea consulting firm, defeated Crowley in the match.  He told me I had witnessed an annual tradition, already in its fifth year.  Newman excitedly said that he remains undefeated in the contest.
He also said the backstroke-swimming execs have been kicked out of the lobby in previous years.
Not this year, though.  Perhaps Crowley and his buddies have earned enough street cred in Austin to 'check in' to any hotel here and do whatever they want.  Isn't that how rock stars act?
Posted by: Valerie Streit -- CNN.com Producer
Filed under: Foursquare • location • SXSW • SXSW Interactive • SXSWi