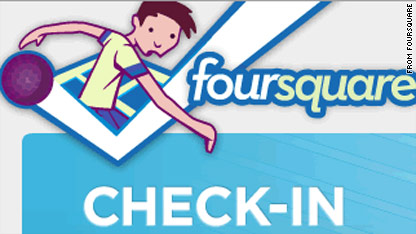 Many of you are active users on Foursquare. More of you have at least heard of Foursquare. And the rest of you are probably just annoyed by your friends posting updates from Foursquare.
Foursquare is a very rapidly growing social network allowing users to "check-in" and share their location with their friends. There is also a gameplay component, drawing a page from the original four square game's book; users collect badges and become "mayors" at spots they frequent. Its been lauded as this year's Twitter by Mashable's Pete Cashmore, and was certainly the talk of the town at SXSWi this year, a tech conference in Austin, Texas.
There are several ways you can be cool and more importantly not uncool on Foursquare. Here are a few tips and guidelines for being cool. (Full disclosure, I am an avid badge hound, and am moderately guilty of one or two of these myself.)
1. It's all about Serendipity, baby
To me, Foursquare is all about serendipity. It's all about discovering that my friends are at the same place as me … or that I just missed them. Or discovering how much you can learn about a friend by the types of places they frequent (and sometimes wanting to join them). It's about battling out a friend or a foursquare nemesis for a mayorship of your local bar.
2. Don't check in if you're not there
As previously mentioned, Foursquare is about the serendipitous moment of discovering you're at the same place as your friend. If you check in somewhere you're not - either to catch up on a place you were earlier in the day or (more nefariously) to try to win a mayorship - that's just not cool. Just let it happen naturally. You'll become a mayor soon enough. If it's a place you hit often, you'll check in there again.
3. Don't do drive-bys
Don't check in when you're dropping off the dry cleaning or picking up some cash from the ATM. Where's the fun in that? And who really wants to be mayor of the gas station anyway? Check in at places where you really are and your friends have chances of finding you (see point #1). And while I'm at it, check in when you arrive somewhere, not when you're leaving so you can increase those chances of serendipity.
4. Don't check in at work or home
It's just not cool. Of course you're the mayor of your house. If you're not, then you've got a real problem. And for work: You're supposed to be at your job every day; I don't need Foursquare to tell me you're there. Reserve Foursquare for the places you can bump into people by happenstance. Its much more fun that way (plus, your boss can't track how late you are to work).
5. Don't ignore real people who you're with
This could have been rule number one. If you're too busy fiddling with your iPhone when you meet up with your friends for drinks after work, you might have to really start using Foursquare to find new friends. Don't ignore the people in front of you for the avatars in your pocket. As I've discovered, becoming a "mayor" usually does not impress them.
6. Friend your friends
With Foursquare, if you're doing it right, you're telling people exactly where you are. I generally like to reserve that for people I actually know. I'm not saying I'm important or interesting enough to have a stalker, but I still don't really want people I don't know to know my precise location.
The exception, however, is for the Foursquare users whose paths you keep crossing. You might discover someone new you've got something in common with who could be a new (real) friend. But still, at least buy me a drink first.
7. Think twice about broadcasting an activity
Speaking of your friends, before you start tweeting or broadcasting your Foursquare activity to Facebook, think about all your friends who really don't care you just became the mayor of your grocery store. While you're earning your overshare badge, you might be losing some followers on Twitter.
8. Add a tip or a to-do
Add a tip for the places you frequent and know a lot about. That could really help the people who might not know your area as well. Plus, it helps built Foursquare street cred and gets you to superstar status faster.
So there you have it: Eight simple tips from some random, opinionated Foursquare user. I might have just set a record for use of the word serendipity. But if everyone followed these rules, the world would be a better place … or at least I would get to enjoy Foursquare a little bit more.
But of course, some of the same rules can also apply across some of the other location-based social networks like Gowalla or Yelp (and maybe even Facebook soon). What do you think? What are your rules for Foursquare?
Posted by: Dermot Waters -- head of product development at CNN.com
Filed under: Foursquare • SXSWi