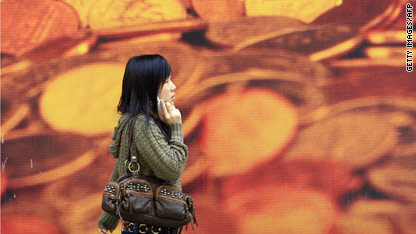 Everyone hates that confusing moment when the check arrives at a large dinner party. Some people want to pay with credit cards, some with cash - and some try to not pay at all. But a new iPhone application, launched on Tuesday, aims to make the whole bill-splitting process a little bit easier.
The app, "Send Money," was created by PayPal, which allows members who sign up to send money to others in a secure way online. The first version of the Send Money app simply transferred money to anyone on a phone contact list. But the company this week announced a partnership with Bump Technologies to allow an iPhone user to simply tap phones with another iPhone user as a way to transfer funds.
More people are now transferring money online. PayPal mobile transactions have dramatically increased even just last year from $25 million in 2008 to $141 million in 2009. And Bump, which is less then a year old, has broken out as the primary technology company that transfers information wirelessly, with just a bump of two phones.
In order to support PayPal's wide reach, Bump had to translate his service into 18 languages. "We could not be more excited," Bump co-founder Jake Mintz said. "We think bumping money is an incredibly powerful interaction."
So now when the check comes at dinner, the "Split Check" feature allows users to divide the check and quickly reimburse each other by bumping iPhones. Or if you owe someone else money it is now simpler than ever to now have them be reimbursed.
PayPal's vice president of platform and emerging technology, Osama Bedier, says this new application also means people won't have to carry as much stuff around with them. "Today, you leave the house with three critical things: your phone, your wallet and your keys," he said. "PayPal Send Money lets consumers access their wallets through their phones. Because with PayPal, the wallet lives in the cloud – the mobile phone is just one device customers can use to access it."
Posted by: Eric Kuhn for CNN.com
Filed under: Apps • Bump • PayPal • smartphones