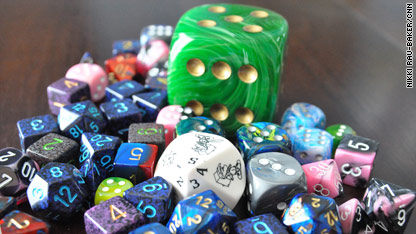 Older gamers still got game
Editor's note: Geek Out! posts feature the latest and most interesting in nerd-culture news. From scifi and fantasy to gadgets and science, if you can geek out over it you can find it on Geek Out! Look for Geek Out! posts on CNN's Marquee and SciTech blogs.
It's been an epic week for gamers. First God of War III and then Starcraft beta news. As I trudge in to work today, a little worn out from last night's Dol Guldur run, I can spot a few others who share the hallmarks of my gaming hobby.
As gamers in our 30s, we're a little more otherworld-weary than the high school and college-aged kids who were waiting in line to buy God of War III Monday night. But as older gamers we keep coming back to the table. Why is that?
Here's a conversation I bet a lot of us have had at one point in the last 10 years. Chat log:
ScaryGrrl: This game reminds me of Castle Wolfenstein!
Solereaper: What is that?
ScaryGrrl: Umm, a game, from the 80s.
Solereaper: Dude, how old are you?
Has gaming evolved to a point where it's a surprise that someone my age would be as into a game as someone (clearly) 15 – 20 years younger than me?
No way! Older gamers still have plenty of game.
Back in the 70s when Atari introduced the 2600 console, we could nestle in the safety of our homes and play to our heart's content without having to face the questions of "why do you play those things?" from our classmates and teachers.
The kids LARPing and playing D & D back then have become the adults who now embrace new technology in all its forms whether it be FPS games, MMO's or console games like Rock Band and Guitar Hero.
The draw for gamers today is the same as it was back then: Escape. For a brief period of time you can be anyone, do anything. Back then it was a roll of the dice and you won the fight, got the loot and praise from your party. Today, all it takes is a few well-timed keyboard clicks and you can become the hero, get the best gear and have the adoration of your guild.
The best part about being an older gamer is the choice. Today there's a buffet of nerdly delights. Games like WoW, Eve Online and Lord of The Rings Online offer the chance to become one of the characters we read about in grade school. I chose the chance to follow Frodo and his fellowship to Mount Doom. I started playing LoTRO in beta three years ago and I'm still hooked. We've made it to Mirkwood Forest and are marshalling the rangers to aid us in our fight.
Do you still have game? Do you notice a difference between younger and older gamers?
Posted by: Nikki Rau-Baker, Turner employee and game enthusiast
Filed under: Geek Out!