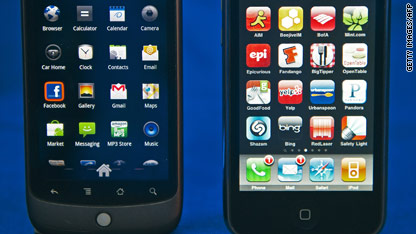 After noticing that he had exactly 911 unread e-mails on his phone, a colleague of mine, Victor Hernandez, decided to share this moment of emergency info overload with his Twitter posse.
He posted a photo of his iPhone home screen online, and that photo was met with reactions he didn't expect.
People didn't care about how many unread e-mails he had.
They just wanted to see which apps he had on his home screen.
"Love seeing what is on the front screen of people's iPhones," one of his followers wrote, noting that she found it funny that Hernandez had prioritized the iSamJackson app. "Says so much about you."
Hernandez stumbled into a possible cultural trend: Phone home screens have become yet another marker of a person's identity. iPhone and Android phone users download an average of nine apps (mobile phone programs) per month, according to a February report by AdMob (PDF). But only 20 apps will fit on the iPhone's rigidly organized home screen, and people tend to put the apps they use most often, or think are the most important, on that starter screen. Maybe the way people arrange these home screens says something about their daily lives and preferences.
Apple, always quick to draw links between its gadgets and its users' personalities, has an entire Web page devoted the iPhone home screen and how to make use of it. So does Google's Android platform.
Hernandez and CNN iReport asked our readers to send in photos of their phone home screens. They were excited to find that no two submissions were alike. Many are quite similar, however, since the iPhone does come with a number of apps preset to run on the home screen, and most of the submissions iReport received were from iPhone owners.
Some home screen submissions highlighted games; others put news apps out front. Some "jailbroken" phones featured customized backgrounds.
Take a look at these photos and let us know what you think. Does a phone home screen really say something about who a person is, or is that corporate and contrived? If it is significant, what types of apps are most essential to you, and why? Does it matter that phone home screens are usually hidden to everyone except the phone's user?
Maybe that secrecy is part of the allure.
Posted by: John D. Sutter -- CNN.com writer/producer
Filed under: Android • Apps • iPhone • smartphones