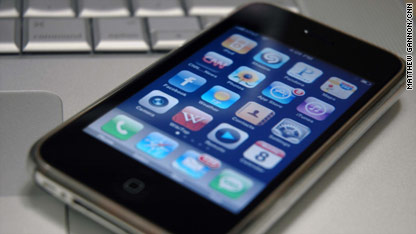 Editor's note: Geek Out! posts feature the latest and most interesting in nerd-culture news. From scifi and fantasy to gadgets and science, if you can geek out over it you can find it on Geek Out! Look for Geek Out! posts on CNN's Marquee and SciTech blogs.
The launch of the iPad is looming, but some of us are still more concerned about what's going to be new for its smaller-statured brother - the iPhone.
There will likely be an update to the phone's operating system in conjunction with the release of the iPad.  The question is – what will we get?
There have been plenty of rumors that this update will be BIG.  Of course, "big" is a relative term and could really mean anything.
The hottest rumor is that the phone may actually be able to finally run more than one application at a time.
For Apple geeks, that would be bigger than big  - that would be huge -  and would bring our beloved iPhone in line with Palm's Pre.
There are some other smaller features I would love to see come to my favorite technological addiction.  Some of these include:
_ Tethering/Hotspot creation:  The Palm Pre can do this – time for AT&T to allow the iPhone to do the same – i.e. create a wireless hotspot or allow the phone to be tethered to a laptop so you can surf anywhere.  I don't even care if I have to pay for this feature – just don't expect me to pay much. (An additional $15 -25 would be in line with what I'd expect).
_ Bluetooth remote profile:  The last update gave us Bluetooth streaming for wireless headphones and other audio devices.  But for some unknown reason Mr. Jobs neglected to include the profile that lets you change tracks.  Please enable this!
_ Custom sound sets: Friends with jailbroken phones (who will remain nameless) lord this over me all the time.  Why can't I make my e-mail, SMS or other alerts sound like whatever I want?  Also, why can't I choose just one email address (my work account for example) to beep/buzz when I get a new email?  Right now it's all or nothing. 
Those are just a few of the things that bug me on this phone.  And as always, it's not that the phone isn't great - it's that it could be so much better! 
What features do you want to see?  What isn't there that drives you crazy?  And let's leave new hardware features for another post!
Posted by: Cody McCloy -- CNN.com Sr. Associate Producer
Filed under: Geek Out! • iPad • iPhone • Palm Pre • smartphones • technology