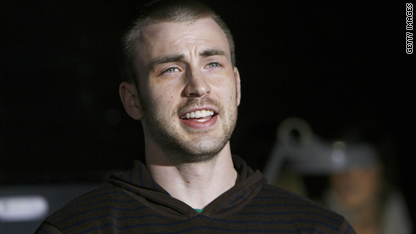 Captain America?
Editor's note: Geek Out! posts feature the latest and most interesting in nerd-culture news. From scifi and fantasy to gadgets and science, if you can geek out over it you can find it on Geek Out! Look for Geek Out! posts on CNN's SciTech blog.
"Fantastic Four" star Chris Evans will play Captain America in not just one, but multiple movies, according toThe Hollywood Reporter. Evans played the Human Torch in the two recent "Four" movies.
As my fellow comic book geeks will know, Cap and Human Torch are two very different characters. Of all of the things wrong with the "Fantastic Four" movies (and oh, there were many), Evans' portrayal of Johnny Storm was aggressively annoying. On the other hand, the Torch is quite literally a self-involved "hot head," so I'm not sure if that performance was necessarily so far off the mark.
Captain America, on the other hand, is the very model of a stoic, noble super-soldier. Supporters of Evans taking the role point to his good work in other films and Cap doesn't appear to be a major acting challenge, per se. Of course, the script will likely be more of a determining factor in whether the movie is any good or not.
Something I would more take issue with is that Evans and some of the others who were rumored to be considered for the role -  like Mike Vogel, John Krasinski, and Channing Tatum (who was all wrong for "G.I. Joe's" Duke, but that's another story) - seem to lack the gravitas needed.
Captain America will next appear in "The Avengers" movie(s) and should be a leader/elder statesman (I mean, he did fight in World War II, frozen in ice or not). The folks behind this online movement to cast Jon Hamm seemed to have the right idea, but it appears that he was never given serious consideration.
What do you think of the decision to cast Evans? Do you think he can do Captain America justice? Share your reaction on video, or in the comments below.
Posted by: Henry Hanks -- CNN iReport Associate Producer
Filed under: Geek Out! • Movies • pop culture