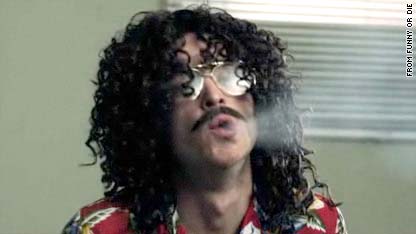 Editor's note: Geek Out! posts feature the latest and most interesting in nerd-culture news. From scifi and fantasy to gadgets and science, if you can geek out over it you can find it on Geek Out! Look for Geek Out! posts on CNN's SciTech blog.
Remember when "Weird Al" Yankovic hooked up with Madonna?
Or the booze-fueled meltdown that nearly ended his career?
Yeah ... neither do we. But that didn't keep all of those titillating moments out of a movie trailer for "Weird:  The Al Yankovic Story."
The spoof video was posted early Tuesday on the comedy site Funny or Die.
"Finally, my life story is being made into a major motion picture!" Yankovic wrote early Tuesday morning on his Twitter feed - @alyankovic.
The trailer spans Yankovic's fictional life, from being busted as a child for hiding copies of "Accordion Player" magazine under his mattress to the drunken tirade aimed at his bandmates - a staple of any rock star's life story.
"Nobody wants to hear a parody song, when they can hear the real thing for the same price," Yankovic says, playing a smarmy record-company executive.
"Breaking Bad" star Aaron Paul plays Al himself in a star-studded cast that includes Academy Award winner Mary Steenburgen, Olivia Wilde and comedian Patton Oswalt as Dr. Demento, the host of the syndicated novelty-song show on which Weird Al got his start.
Founded by actor Will Ferrell and others, Funny or Die has emerged as a platform for famous actors to cut loose - filming one-off projects they probably couldn't get approved anywhere else.
Sadly, there are no plans for an actual movie on the life of the man who brought us classics like "Eat It," "Dare to Be Stupid" and "White & Nerdy."
But if he can spoof the songs of famous pop stars, why not follow them into the biopic world too?
Posted by: Doug Gross -- CNN.com producer
Filed under: Geek Out! • Internet • Movies • Music • online video • pop culture