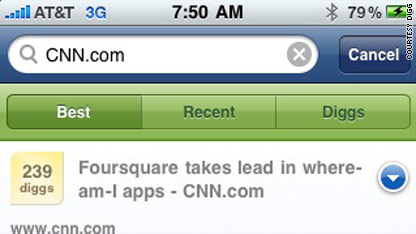 Fresh off an announcment that they'll be revamping their popular news-sharing site, Digg on Wednesday went live with a new iPhone app.
The free app is designed to give users a look at the most popular stories on the Web, as chosen by Digg's millions of monthly users.
It lets users browse lists of recent content, rate stories, search for specific topics and save stories to read later.
The app was available Wednesday afternoon in Apple's European store and was expected any time in the U.S., according to a Digg spokeswoman.
Digg will be releasing a similar app for the  Android platform soon and plans updates to the iPhone version based on user feedback, said the spokeswoman.
At the South by Southwest Interactive festival earlier this month, Digg CEO Jay Adelson announced an invitation-only beta of a new version of the site which creators say will be faster, more personalized and allow anyone, not just Digg users, to suggest stories to the site.
Founded in 2004, Digg and similar sites like Reddit [which already has an iPhone app] and Mixx have taken a hit as more people use sites like Facebook and Twitter to share links. But Adelson said Digg still has about 40 million monthly users.
What do you think? Is Digg an app worth picking up?
Posted by: Doug Gross -- CNN.com producer
Filed under: Digg • iPhone • online news • smartphones