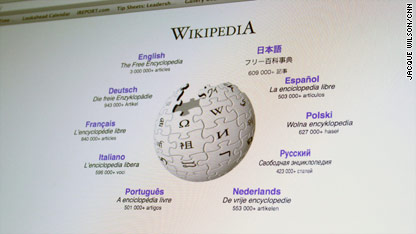 [UPDATE: It appeared that Wikipedia was back online as of about 4:30 p.m. ET.]
Wikipedia was offline Wednesday afternoon after an overheating problem at the online encyclopedia's European data center.
Wikipedia's technical blog said the site's servers shut themselves down to avoid damage from the heat.
Administrators tried to shift traffic to a cluster of servers in Florida, but "it turned out that this failover mechanism was now broken, causing the DNS resolution of Wikimedia sites to stop working globally," according to the blog.
"This problem was quickly resolved, but unfortunately it may take up to an hour before access is restored for everyone, due to caching effects," the blog said.
Trying to access wikipedia.com and wikipedia.org at about 2:45 p.m. ET produced a navigation error message.
One post to Wikipedia's technical blog, by a user named Jimmy, found some humor in the situation: "And so we remember Thursday, March 25, 2010 as the day every English speaking student failed their research papers."
Posted by: Doug Gross -- CNN.com producer
Filed under: Internet