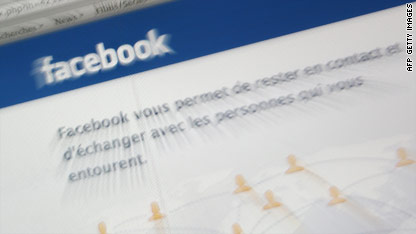 Do you think risky behavior and a lack of proper medical attention caused that unfortunate case of syphilis?
Not so fast – a health official in England says it might have been Facebook.
A public health director recently told London's The Telegraph that a rise in sexually transmitted diseases in his area could be linked to the fact that sites such as Facebook are popular there.
"Social networking sites are making it easier for people to meet up for casual sex," Peter Kelly, director of public health in Teesside, said according to a Wednesday article in the paper.
The story, which appeared in numerous British tabloids, was met with smirks online. Social-networking site Mashable called the report "stretched at best."
Blog TechCrunch called the story "dubious" in a post titled, "Calm down. Facebook doesn't cause syphilis."
Meanwhile, Facebook called the reports ludicrous.
"While it makes for interesting headlines, the assertions made in newspaper reports that Facebook is responsible for the transmission of STDs are ridiculous, exaggerate the comments made by the professor, and ignore the difference between correlation and causation," said Facebook spokesperson Andrew Noyes in a written statement.
"As Facebook's more than 400 million users know, our Web site is not a place to meet people for casual sex – it's a place for friends, family and coworkers to connect and share."
Posted by: Doug Gross -- CNN.com producer
Filed under: Facebook • Internet • social-networking sites