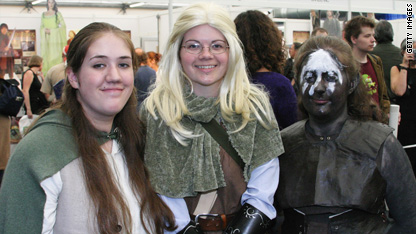 The Fellowship Festival 2004
Editor's note: Geek Out! posts feature the latest and most interesting in nerd-culture news. From scifi and fantasy to gadgets and science, if you can geek out over it you can find it on Geek Out! Look for Geek Out! posts on CNN's Marquee and SciTech blogs
Every year since 2003, fans of J.R.R. Tolkien's classic tales have gathered on March 25 for meetups at local libraries, schools, universities and elsewhere to celebrate the works of one of the original geek icons.
March 25 is the date that Sauron, the evil overlord, is overthrown in Tolkien's "Return of the King."
It all started when the Tolkien Society, a group dedicated to the "Lord of the Rings" author, were approached by a journalist who asked why there was no day of celebration for Tolkien to match the one for James Joyce.
Thus, Tolkien Reading Day was born.
Each year, there is a different theme for the day (this year it's "Tolkien's Seafarers"). Fans - encouraged to attend in costume, of course - read aloud some of their favorite sections for about ten minutes or less, and participate in "musical interludes." Some people even bring recordings of Tolkien himself giving a reading.
Since the final Oscar-winning film of the "Lord of the Rings" series was released, Tolkien Reading Day has been the main event to bring Tolkien fans back to basics.
One of the most popular forums at Tolkien fansite TheOneRing.net, is "The Reading Room."
Patricia Dawson, a senior staff member with the site, said that the original purpose of the site 11 years ago was to post the latest news about Peter Jackson's films (Jackson, and subsquently, Guillermo Del Toro, have a close relationship with the site). Since then, she said, the site, with its 4,500 message board members, has been even more "grounded in (Tolkien's) works and readings." The aforementioned "Reading Room" is a place for scholarly discussion.
Fans, young and old, flock to Tolkien Reading Day, according to Dawson. Some of them were fans long before the idea of having an online community first came about.
Young children, she said, "do some of the best readings I've ever seen." She has even heard of 24-hour reading marathons taking place.
To be sure, the long-awaited "Hobbit" movie is still a big topic among fans online. Del Toro keeps TheOneRing.net visitors aware of the latest developments, including recent "enquires from above" about releasing it in 3-D, in the aftermath of "Avatar."
Until "The Hobbit" hits theaters, however, fans will continue to pay tribute every year to the man who first wrote that book over 70 years ago.
If you stop by your local library today, you might just be get the opportunity to join them.
Posted by: Henry Hanks -- CNN iReport Associate Producer
Filed under: Geek Out! • pop culture