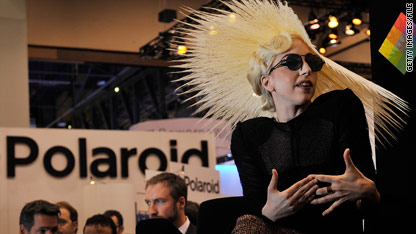 Fans of tech nostalgia, it's time to rejoice.
Film for Polaroid's old-school instant cameras went out of production in 2008, but a European company has started reproducing certain types of the film again.
A company called "the IMPOSSIBLE project" started selling the instant film on its Web site today. The price is steep, though: $21 for a 8-photo pack that develops in black-and-white.
The black-and-white film works with SX 70 Polaroid cameras from the 1970s.
Color film will be released this summer, according to news reports.
The Wall Street Journal's Speakeasy blog has details on the difficulties of producing the film:
The Impossible Project acquired its namesake because of the complexity of the film, which has six distinct layers, (mask, receiving sheet, developer, negative, rail and mash), with each of those layers comprising of six to 10 components. Additionally, many of the key ingredients and chemicals were no longer available once Kaps and Bosman got working in the factory.
The Associated Press notes that Fujifilm produces other varieties of Polaroid-compatible film, but not this type.
By some accounts, Polaroid is making a bit of a comeback these days. Lada Gaga, the singer and fashion maven, is part of the company's publicity campaign. And Polaroid has come out with digital cameras that print photos on-the-spot, but they haven't taken off the way its vintage instant cameras did.
Even if you don't have an instant camera, there's still plenty of Polaroid entertainment to be had on the Internet these days. Flickr has a robust Polaroid-sharing community, with more than 14,000 members. There's a popular iPhone app that gives mobile-phone photos a Polaroid look (you even get to shake your camera to "develop" the prints).
And, of course, there's always that OutKast video.
Posted by: John D. Sutter -- CNN.com writer/producer
Filed under: photography • Polaroid