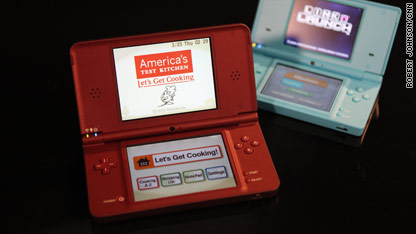 Editor's note: Geek Out! posts feature the latest and most interesting in nerd-culture news. From scifi and fantasy to gadgets and science, if you can geek out over it you can find it on Geek Out! Look for Geek Out! posts on CNN's Marquee and SciTech blogs
Is bigger better?  Or is it just bigger?  Nintendo is banking that their latest handheld console – the DSi XL – will be both.
The Nintendo DSi XL is similar in many ways to its little brother, the DSi.  The configuration of the buttons and screens are the same as are the camera tools, Internet connections and available software.
 What sets the two apart is the size.  The XL version is 93 percent larger than the regular handhelds.  The new screens measure 4.2 inches diagonally and the closed unit grew to 6.3 inches wide by 3.6 inches tall.
 Nintendo is counting on the increased size to promote family fun.  With the smaller DSi, gamers hunched over their consoles to focus in on the action on little screens. 
With larger screens and an improved wider viewing angle, Nintendo hopes to make it easier for friends and family to watch and join in on the game.
 "For some people, good things come in big packages," Nintendo executive vice president Cammie Dunaway said. "This new portable system really lets players enjoy the fun together."
 The XL comes pre-loaded with three titles: "Brain Age Express: Math," "Brain Age Express: Arts & Letters," and "Photo Clock."  Nintendo is also releasing 2 new titles at the same time, "America's Test Kitchen: Let's Get Cooking" and "WarioWare: D.I.Y.," which it hopes will highlight the advantages of the larger screen.
 I got my hands on the new XL and it definitely felt better than the smaller version.  It felt solid and didn't feel like it was going to snap apart in my hands [not that I'm a strong guy, but I am destructive].
 There are no new features other than size.  But the size difference makes itself felt when you power up the device and load some software. 
 The new screens made it easier on the eyes to enjoy my games.  "Flipnote Studio," a program that allows you to draw and animate, became easier to work on finer details in my art.  Gameplay jumps out of the screen and finesse seems more manageable.
 Nintendo said the DS handheld (Lite and DSi combined) sold 11.2 million systems in 2009 in the U.S. alone.  It said they sold 30 million DS units in Japan during their last fiscal year, so they have a large market to entice with their latest device.
 However, Nintendo just announced that they would be launching a 3-D version of their DS handheld sometime before April 2011.  Will gamers go big or go 3-D? 
 The Nintendo DSi XL will be available on March 28.
UPDATE (Tuesday): Nintendo announced that games on older handheld consoles cannot transfer over to the new DSi XL. The company said DSiWare games and points would have to be repurchased on the new XL console.
Nintendo of America released this statement: "The games and applications are specific to each system, not each user. We're looking into that specific topic, but we don't have anything to announce at this time."
Posted by: Larry Frum for CNN.com
Filed under: Geek Out! • Nintendo • video games