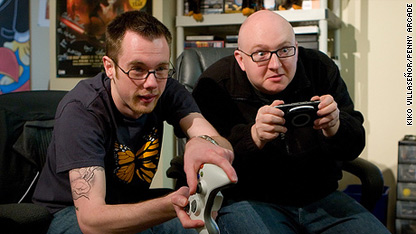 Editor's note: Geek Out! posts feature the latest and most interesting in nerd-culture news. From scifi and fantasy to gadgets and science, if you can geek out over it you can find it on Geek Out! Look for Geek Out! posts on CNN's SciTech blog.
PAX East, the Penny Arcade Expo, was the geek buzz this weekend as gaming fans flocked to the event in Boston, Massachusetts. Wil Wheaton of "Star Trek: The Next Generation" was a guest speaker. Before the convention, I chatted with Mike Krahulik and Jerry Holkins, the writers of the Web comic Penny Arcade, who started it all. Here is an edited version of our conversation.
What do you want people to get out of your convention?
Jerry: We want them to derive nourishment. Nourishment for the geek soul and the enduring sensation that they are not alone.
Do you think that geeks today are more accepted than before?
Jerry: Even if it were true, I would resist it. I don't want to be accepted. I want to retain my street credentials. There are lots of geeks, and certainly geeks can communicate with one another, but ... do we have an openly geek Senator? Is there a Senator that can speak fluently about Daleks? Maybe not.
I would say that Michael and I are being beat up less. It hasn't completely abated. It still happens on occasion. But I would say that… the beatings are less severe.
What do you think is the difference between a nerd and a geek?
Jerry: I think being a geek is cool… A geek has an ownership of their geek nature.
And nerds?
Jerry: They don't. It's my hope that my nerds become geeks via a natural process, that they learn that their inherent nature isn't something they need to feel ashamed of. I feel like 'nerd' is the epithet, and 'geek' is the inside term.
Mike: Is that like what's written on a tombstone?
Jerry: Mhm. Here lies, you know, Nerd.
How do you geek out?
Jerry: We geek out constantly. I'm geeking out right now. I'm talking to CNN.
Mike: I tend to geek out about gadgets. Pretty much any new gadget that comes out, I get excited for, mostly because I like taking them out of the box, peeling that layer of transparent film off of them ... .
Jerry: The thing that I geek out about most is that specialized cultures, just by necessity, need to develop a lot of customized language. Because Penny Arcade is read by a broad spectrum of people, one of the things that we can do is create bits of useful language and I like to track those words and see if they end up with a happy, healthy life. Like, if they make their way into actual conversation and are used as a tool.
"Bull shot" was a good example that Mike came up with. It's often the case that a case screen shot from a game - obviously screen shots are part of the marketing engine that promotes this medium - but sometimes these shots are obviously fraudulent. Most recently it was with Final Fantasy 13 on the [XBox] 360. There were just some shots that were untrue... The term "bull shot," which we had put in the strip a couple years ago, was leveraged, even today in 2010 to describe that - which, for us, is pretty exciting.
How did you meet and start making comics?
Jerry: We met in journalism class originally and we did a small comic in the paper for Mead High School in Spokane. Through the course of human events, we ended up working on comics there in the apartment. [E]ventually we entered a contest to create comics for a Web site called Next Generation Online, which was connected to a magazine back then. Very prestigious. We failed in that task. We did not win that contest. [But] we had an ample selection of comics, and we found a place to run them.
How did you go from writing comics to selling books to making your own video games to hosting your convention?
Jerry: We tried to make the right decision at each juncture. If there was an opportunity to get books out through Dark Horse or Random House, if there was an opportunity to make a game or make a show or put together a charity, we just tried to make it as good as we could each time. It was a pretty organic process.
How would you describe what Penny Arcade is?
Jerry: It's essentially like a political cartoon for the gaming industry. We essentially catalog gamer culture and pop culture in a thrice-weekly comic strip.
How would you say that it evolved since 1998?
Jerry: We have changed a lot. Essentially the strip – it's about games because that's what we like. But more than that essentially, the strip is about us, it's sort of like a diary in that respect. It's changed along with us... Occasionally, we'll discuss the kids we've had in the interim period, or things like that. We've touched on some more dad issues, and some things that are maybe of a more enduring nature than the releases that week.

Did you think that your franchise would be become so big?
Jerry: One always has the best hopes for their children, but no. It's a perpetual surprise
What is your favorite video game of all time and why?
Jerry: There have been a lot of games that I've played in recent memory that are sort of standing tall. Mass Effect 2 just came out, and we've all in the office played through that, and that had a pretty profound effect on all of us...The original Wasteland on the Commodore 64... that was the first game I ever bought with my own money, so for me, I earned every second of that experience so I was very aware of it. But I really liked the first Shenmue as well on the Dreamcast.
Mike: My favorite video game is probably Kingdom Hearts II, but I also have to go with Jerry and say that Mass Effect 2 is pretty amazing.
How did you come up with the alter egos Gabe and Tycho?
Jerry: We didn't have to work very hard. Gabe and Tycho were our handles... The name that you choose when you play a game in multiplayer or single player, it's just sort of these personas there. Personality wise, the characters in the strip are just sort of exaggerations of our worst qualities.
How did you meet Wil Wheaton and start inviting him to PAX?
Jerry: He's our friend. We had met him at multiple conventions; he often found his way down to San Diego and we had met him there one year and really hit it off. And so when the time came to move PAX from Bellevue, where it started out, into the Washington State Convention Center, a pretty momentous move… we really wanted to identify that shift, that motion into a world-class show, and we thought that Wil would be a good voice for that. We were not wrong; he delivered a really great keynote that year.
Posted by: Elizabeth Landau -- CNN.com Writer/Producer
Filed under: Games • Gaming • Geek Out!