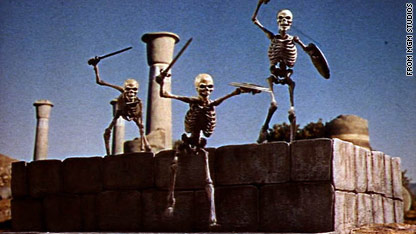 Editor's note: Geek Out! posts feature the latest and most interesting in nerd-culture news. From scifi and fantasy to gadgets and science, if you can geek out over it you can find it on Geek Out! Look for Geek Out! posts on CNN's SciTech blog.
Yes, the new "Clash of the Titans" movie comes out this weekend, and yes, I will go see it (but not in 3-D). But as good as this film could be, it cannot and will not replace the original 1981 version as one of the "classic" movies of my younger days.
The story is an ancient tale of bravery, love, gods and monsters. Growing up, I remember watching the movies of Godzilla and Gamera and being bedazzled by the awesomeness of monsters coming to life on the screen.
I also watched King Kong, Mighty Joe Young and the Sinbad movies just for that reason. I became familiar with the name Ray Harryhausen after watching "Jason and the Argonauts" and the animations of skeletons fighting the sailors.
Even though I knew it wasn't real, Harryhausen's stop-motion model animation made it seem real. But it was in "Clash of the Titans" where his most memorable work was waiting for me.
The skeletons returned to harass Perseus and his men as well as giant scorpions, a winged horse, mythical creatures, and, of course, the Kraken. The legend of the Kraken portrayed them as very large octopi or squid. Harryhausen went one step better and gave the monster a head that resembled a cross between a parrot and the Creature from the Black Lagoon.
Even the funny and smart mechanical owl, Bubo, was made so well that I wanted to find an owl like that for myself.
It wasn't that these creations were done so masterfully that made the movie memorable. It was that there were so many throughout the entire film. A scene with one animated creature would end and another would begin with a brand new monster. As a teen boy who was reading Tolkien (for the billionth time) and playing "Dungeons and Dragons", these were my imaginations coming to life.
"Clash" would be Harryhausen's last feature film to showcase his stop-action work. Computer animation was already being used and movie companies were using it more and more for their productions. While the use of computers made the creatures more life-like, they seemed to sap away my need for my imagination to make them seem real.
While I have only seen trailers for the new version, I can say I am impressed with the new Kraken. I will go see the 2010 film and probably be dutifully entertained. Will I come away with the emotional and nostalgic feelings that I get when I watch the 1981 version?
Probably not. But that doesn't mean I won't like it.
What was your favorite part of the 1981 "Clash of the Titans"? What made it a memorable movie for you? Let us know in the comments area below. In the meantime, here's what moviegoers told iReporter Chris Morrow about the new version at an early screening.
Posted by: Larry Frum for CNN.com
Filed under: Geek Out! • Movies • pop culture