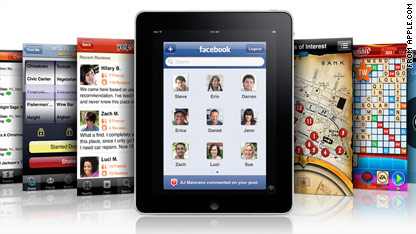 So what exactly can you do with the new Apple iPad?
That question will likely be best answered by what apps - or mobile applications - become available for the touch-screen device.
Ahead of the iPad's Saturday release, Apple decided on Thursday to put more than 2,500 iPad apps up for sale on its App Store, giving techies a first glimpse at an answer to that all-important question.
Reviewers who already have the iPad are weighing in. Note that these apps are generally pricier than those for the iPhone or iPad Touch. The big difference? iPad apps are bigger, allowing for fancier designs.
Here are a few iPad apps that caught our eye:
eBay: It's free and has bigger photos of products, theoretically making it easier and faster to sort through them.
Marvel Comics: The iPad's 9.7 inch screen shows off color books better than grayscale e-readers.
The Elements: Reviewers are in love with this app, which is basically a multimedia e-book about the periodic table of elements (think of your childhood place-mat gone digital). The price is steep, though, if you're used to $0.99 iPhone apps. It sells for $13.99.
NBA: Reviewers say this app is great for statistics fans, since graphs and court diagrams are easier to show off on a bigger screen.
Epicurious: The preview photos of this recipe-book app look pretty cool. And the app is free.
Netflix: You still need a Netflix subscription, but this free app lets you stream movies and TV shows offered by Netflix onto the iPad's large screen.
EA games: Scrabble, Need for Speed and Tetris are getting buzz from CNET. Some gamers hope the large screen will make games more engaging on the iPad than on the iPhone. Others are skeptcial. Some titles could just look over-inflated.
Box.net: Sites like Box.net and Dropbox archive documents "in the cloud," so you can access them from anywhere. Wired says these services are a whole lot easier to use on the iPad's big screen.
iWork: Apple's suite of apps costs $9.99 and are aimed at business and student types. They help you create presentations, documents and spreadsheets.
Check out the Apple App Store through iTunes to see a full list of the iPad apps available now, with prices and screenshots. With the exception of the iWork apps, we haven't tried these programs yet, but we'll report back as soon as we get our hands on an iPad.
Posted by: John D. Sutter -- CNN.com writer/producer
Filed under: Apple • Apps • Games • iPad