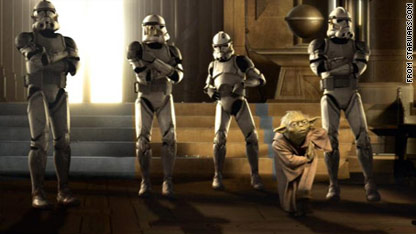 God of War 3
Editor's note: Geek Out! posts feature the latest and most interesting in nerd-culture news. From scifi and fantasy to gadgets and science, if you can geek out over it you can find it on Geek Out! Look for Geek Out! posts on CNN's SciTech blog.
Need a break from this past weekend's Peep-induced sugar coma? Here's something else that's pretty sweet for Easter Monday: some of our favorite Easter eggs! Easter eggs are those fun extra features in games, DVDs and even in some software that play out with a magic code, or some deftly-pressed combination of left-right-left-right-up-down-down. These are the ones that really bring out our inner geek:
My favorites are from the extended editions of the "Lord of The Rings" DVDs. They're on each one of the films. The first 2 are a little racy as Jack Black is at the council of Elrond in "Fellowship," and Gollum/Smeagol is accepting an MTV award (with some colorful language) in "Two Towers." The tamest and possibly funniest are on "Return of the King," where Elijah Wood gets prank interviewed by Dominic Monahagn and Peter Jackson gets asked about making more LoTR-themed movies.
- Nikki Rau-Baker
"Star Trek: The Next Generation" was a 1993 Williams Electronics pinball game based on the popular TV show. When you shoot your pinball into the Holodeck you are presented with a choice of either 25 million points or a "shuttle simulation." Instead of choosing one over the other, hold in the trigger and press the right flipper button. Once you do that, you will be sent to a hidden video mode where you play a hand of poker with Commander William Riker (voiced by Jonathan Frakes).
- James Dinan
A couple of years ago, when you clicked on the moon in Google Earth and zoomed way in, the moon became a chunk of cheese. It was a super cute easter egg.
- Karyn Lu
The Disc 1 commentary track of "Freaks and Geeks - The Complete Series" shows anime photos of the characters Lindsay and Sam.
"Lost Season 2: Everybody Hates Hugo" - Jorge Garcia talks about sweating.
"Star Wars Episode III: Revenge of the Sith" - Yoda dances to The Roots, as seen in the photograph above.
"Spider-Man 2" DVD – Willem DaFoe and Sam Raimi prank Alfred Molina.
"Star Wars Trilogy" - hidden blooper reel
"Firefly: The Complete Series" - Adam Baldwin sings "Hero of Canton"
- Henry Hanks
At the end of the video game "God of War," Kratos is left in a room with two huge statues. One is Ares, the former god of war and the last boss of the game, the other is of a giant Minotaur.
If you steer Kratos to the statues and spend close to 5 minutes just wailing on the statues they will eventually shatter. There is nothing to give you a clue that they will break: no crunching sound or debris falling from the statues.
You will doubt yourself, thinking this is not going to work - but it will.
Once they're gone, a special phone number pops up on the screen. When you call it, an automated message from Kratos kicks in telling you that you might think you've got the video game goods because you beat his game, but he will still kick your butt, because *he* is still the God of War.
This was really fun and gave me a good laugh after finishing a great game. This also guaranteed that I would waste a lot of time trying to bust unbreakable statues in both of the sequel video games.
- Gustavo Castaneda
My all-time favorite is the "Fight Club" DVD. David Fincher inserted several subliminal frames of Brad Pitt's character Tyler Durden in the film – long before you find out he's a mental projection of the narrator.
- Valerie Streit
By far the best set of Easter eggs I have found has been for the 2002 Best of Bowie DVD video collection.
They added nine cool extras that are completely hidden and have unique ways of getting to them such as leaving the page alone for 5 minutes or having a different version play every 2nd time you select a clip.
- Will Etkin
So what are your favorite Easter eggs? And how did you find them? In the mean time, check out a few more tips for hunting Easter eggs here.
Filed under: Geek Out! • pop culture • Uncategorized • video games