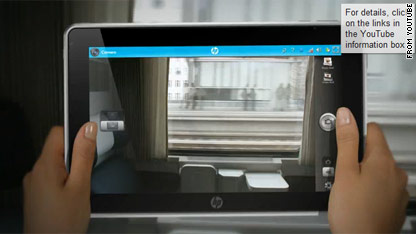 In an apparent attempt to steal some buzz from Apple's brand-new iPad, Hewlett-Packard on Monday released some details about its "slate" computer, which will go on sale later this year.
A new blog post and video highlight some apparent differences between the two gadgets: The HP device has two video cameras, a USB connection and also support for Flash animations.
The lack of those features has been a consistent gripe among iPad reviewers.
Like the iPad, the HP gadget is a medium-sized, touch-screen device that acts kind of like a laptop without a keyboard, and kind of like a stretched-out smartphone. In a blog post, HP vice president and chief technology officer Phil McKinney says the Slate will let people create content as well as consume it:
Think about the last time you chatted with friends over Skype on your notebook. Or uploaded a picture from your mobile phone to Facebook or Flickr. How about the last time you viewed images or video from an SD card or a USB device. We know that you expect to be able to capture and share digital content on your mobile devices. And the HP slate device excels there.
A short YouTube video posted by HP indicates the tablet-like device will have two video cameras - one for taking images of the environment, and one that captures the person holding the device. That second camera could be used in live video chats, for example.
HP briefly showed off the device at the Consumer Electronics Show in January, and has since been leaking videos with new details about how it will work. There's no word yet on how much HP's device will cost, or exactly when it will be released.
Posted by: John D. Sutter -- CNN.com writer/producer
Filed under: HP • iPad • slate computers