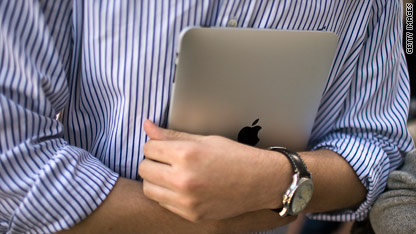 After months of hype, dozens of reviews, plenty of television promos and an Easter weekend appearance at an Apple store by the high priest of gadgetry himself, Apple CEO Steve Jobs, the company's long-awaited iPad is finally in the hands of consumers.
So how did they like it? Is the iPad a runaway early success? Here are a few ways to measure:
Sales: On Saturday, the day the product was released, Apple says it sold 300,000 iPads. Analysts estimate the company sold between 300,000 to 700,000 of the touch-screen "slate" computers over the weekend.
[Read the full story on sales at CNNMoney.com]
Anticipation: 300,000 iPads is about what analysts expected Apple to sell on opening day.
Comparison: The iPhone - which some think is basically a smaller version of the iPad - launched in 2007 as Apple's greatest hit in recent memory. Analysts estimated 200,000 iPhones were sold on the day it debuted, which is a third less than the iPad. The iPhone sold its millionth unit 74 days after it hit the market.
Reviews: The mainstream press wrote mostly glowing reviews for the iPad in advance of its release on Saturday. Some consumers have expressed disappointment with their purchases. Others find pros and cons, but many say they really love the device. [Here's a wrap-up of reviews from CNN iReporters].
Mainstream appeal: By some accounts, most of the people who bought iPads already were Apple fans - i.e., nearly three-fourths of them already owned a Mac, according to a Piper Jaffray survey. How the device will fare with people outside the Cult of Mac is a question up for debate.
Apps: Apps - or the games, applications and programs that run on a gadget - really made the iPhone sing with consumers, because apps determine what a device can do. More than 1,000 apps have been designed specifically for the iPad's 9.7-inch screen, and the New York Times says developers are rushing to update them now that the device is out. Consumers already have downloaded more than 1 million iPad apps, according to an Apple press release - so that's about three apps per iPad to date.
Revolution: Some analysts expect the iPad to revolutionize the area of tablet computing, which Microsoft and others have tried to push on consumers in the past, but with only limited success. The iPad's success may buoy the entire tablet market, says USA TODAY. The newspaper says once-stale tablets "may be the new hot thing."
Debauchery: Finally, if the hackers don't like your gadget, you know you have a problem. But, in what could be read as a good or bad sign for Apple, a video of someone "jailbreaking" the iPad has already surfaced.
Have you gotten your hands on an iPad? If so, let us know what you think of it, either by posting a comment below or by submitting a video to this CNN iReport assignment. (You can find other consumer reviews there, too).
Also, if you still have questions about what the iPad is and what exactly it does (don't worry, some people in line to buy the device still were unsure of what it was), here are two guides to understanding the iPad, and picking the right one.
Posted by: John D. Sutter -- CNN.com writer/producer
Filed under: Apple • Apps • iPad