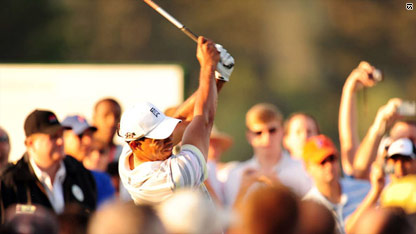 This week's Masters golf tournament will draw lots of casual golf fans because Tiger Woods is returning after months of news about his tawdry off-the-fairway activities.
But there's one more reason they might tune in - the tourney will be offered in 3-D.
Comcast and the Augusta National Golf Club are joining to show the revered tournament in next-generation 3-D - at least for people who have TVs or computers rigged to see it.
The dedicated channel will show about two hours of live programming a day, according to a Comcast blog post.
"Our engineers in Comcast Labs have been testing transmission of footage from Augusta National over the past few weeks and I can tell you that it's nothing short of spectacular," Derek Harrar, a Comcast vice president, said in the post. Sony and IBM will be working with Comcast to make the broadcast possible.
The broadcast is part of a trend of sporting events embracing the growing 3-D boom.
ESPN has announced that they'll broadcast the 2011 BCS National Champship game, World Cup soccer and other events in 3-D. The network's first 3-D sports event will be the World Cup match between Mexico and South Africa on June 11.
Companies like Sony, Samsung and Panasonic have begun producing 3-D television. While the technology is still emerging, the companies are hoping that programming like the Masters will help drive sales of the TVs.
Posted by: Doug Gross -- CNN.com producer
Filed under: HDTV • pop culture • technology