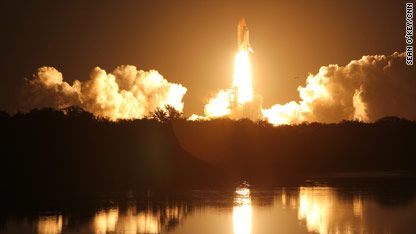 Space Shuttle Discovery
Editor's note: Geek Out! posts feature the latest and most interesting in nerd-culture news. From scifi and fantasy to gadgets and science, if you can geek out over it you can find it on Geek Out! Look for Geek Out! posts on CNN's SciTech blog.
We were awake for more than twenty-four hours in the singular pursuit of one goal: We had a shuttle to catch.
The Space Shuttle Discovery. One of NASA's final shuttle missions blasted off from Kennedy Space Center yesterday morning at 6:21:25 EDT, just as the sun was edging towards daybreak - the last shuttle mission scheduled to blast off into night skies.
This mission and crew are special for a few reasons: it will mark the first time that four women are in orbit simultaneously. It will mark the first time that two Japanese Aerospace Exploration Agency (JAXA) astronauts are in orbit at the same time. This is Discovery's second-to-last scheduled trip to space, and the last time that a Shuttle crew will comprise seven people. It is also the last time that a rookie will fly aboard the Shuttle.
The milestones are plentiful - like most Shuttle missions, NASA and its partners have made sure the 13-day flight will be nonstop activity.
But for our little crew of three, this launch was unique because it represented a geek dream realized: The three of us have been space enthusiasts, NASA supporters and star gazers for most of our lives. With only four (now three) scheduled launches remaining in NASA's Shuttle program, we were running out of chances to witness a launch in person.
And witness one we did. After weeks of delays due to cold weather and leaky-valve technical issues, Discovery was finally on the launch pad and ready to go. The countdown proceeded smoothly through the course of the night, sliding in and out of planned wait periods with nary a hint of a problem.
We watched the clock tick down, standing a few feet from those iconic yellow numbers. All told, we spent roughly seven hours at Kennedy Space Center, photographing the stars, the moon, the xenon-lit Shuttle and the people who had come to quite literally feel the earth move.
At T-3 seconds, we saw more than felt the three main engines light.
At T-0 we could see enormous clouds of vapor and smoke billowing beneath the Shuttle as Discovery lifted off the pad.
The sky brightened faster than any sunrise. And then, the roar: the ground-shaking, chest-thrumming bass announcement of several million pounds of thrust pushing seven people into orbit.
Accompanying it, the hundreds of shutter clicks as hundreds of photographers scrambled to get the perfect shot.
Then, just as swiftly as it began, it was over. In what felt like a split second, Discovery was out of sight, its thunderous roar fading quickly back to a quiet coastal dawn, leaving only a contrail that marked the sky.
The three of us kept moving, kept shooting, kept talking, completely astounded at the sheer force - physical and mental - that this agglomeration of engineering and ingenuity produced on this early Monday morning.
Posted by: Sean O'Key -- CNN.com Associate Producer, Sophia Dengo -- CNN.com designer
Filed under: Geek Out! • NASA • Space