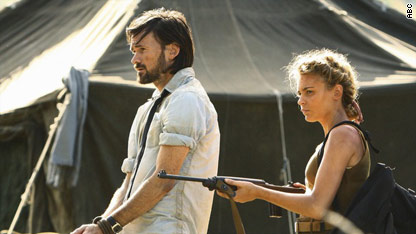 Editor's note: Geek Out! posts feature the latest and most interesting in nerd-culture news. From scifi and fantasy to gadgets and science, if you can geek out over it you can find it on Geek Out! Look for Geek Out! posts on CNN's SciTech blog.
If you're watching "Lost," you're probably wondering how the writers are going to resolve all of the questions about time and parallel existences. Sean Carroll, physicist at California Institute of Technology and "Lost" fan, is wondering the same thing.
But as far-fetched as the show may seem, there are ways in which concepts from modern physics could explain what's happening in terms of time, says Carroll, author of "From Eternity to Here: The Quest for the Ultimate Theory of Time."
To recap: In the last two seasons of "Lost," characters on the island found themselves jutting through time. Season 5 found the characters transported to different eras on the island again and again thanks to some uncomfortable - even deadly! - white flashes.
At the beginning of Season 6, after Juliet activated the hydrogen bomb at the Dharma Swan site, the characters appeared in a new timeline.
This timeline portrays what happens to the characters on Oceanic Flight 815 had the plane not crashed. But many aspects of their lives are different, suggesting that the detonation of the bomb in the 1970s (after some of them had gone back in time) changed their lives in 2004 in significant ways - Sun and Jin are not married, Benjamin Linus is a schoolteacher, etc. etc.
But we don't know if the bomb actually created this timeline, or if it had always been there.
In real life, physicists think about multiple worlds all the time when it comes to quantum mechanics - the study of matter on atomic and subatomic scales. That's because nature gets freaky when you try to describe the behavior of particles smaller than the eye can see.
In quantum mechanics there is a concept called the the "many-worlds interpretation," Carroll says. The theory goes that the universe splits into multiple "worlds" when we observe a quantum system in which the particles are in multiple places at once.
Let's say we observe a single particle at positions A and B simultaneously. Each place that the particle is in corresponds to a different world - so, there's a world with our particle at A, and a separate world with our particle at B.
"We might imagine that detonating the bomb acted as an especially dramatic quantum event, splitting the universe into two timelines. The show has hinted that there is some sort of connection between the two timelines, so we'll have to see how that plays out," Carroll says.
Also, if time travel were possible, it would have to operate according to a principle that "Lost" characters kept repeating in Season 5: "Whatever happened, happened." That means that if you could go back in time, you wouldn't be able to change anything.
So let's say you go back to 1990 and encounter yourself, saying "Hey, you - I mean, me." That would have always happened, and you would remember now having met yourself then (so it hasn't happened!).
Recall, for instance, that in "Lost," Eloise in present-day Los Angeles clearly remembered that she had met her own time-traveling son Daniel many years earlier, but Eloise on the island in the 1970s did not, because from her perspective it hadn't happened yet.
All this goes to say that the "Lost" creators do have some basis for the sometimes outrageous time travel elements in the show. Still, a lot of underlying ideas haven't been resolved yet. Tune in on Tuesday nights to see if we learn more!
Posted by: Elizabeth Landau -- CNN.com Writer/Producer
Filed under: Geek Out! • Physics