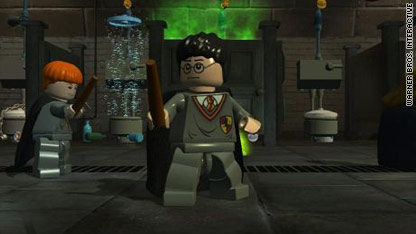 Harry in the showers
The next three months of game releases are going to be light compared to the first three months of this year. Expect a lot of downloadable content to come out for previous released games, but not as many blockbusters.
There are some big names coming out this spring, though. Mario makes a return as well as Harry Potter, Tiger Woods and Metroid. And there are hints about something that has been nearly 12 years in the making.
April kicks off with "Splinter Cell Conviction" (Ubisoft), as hero Sam Fisher gets some new moves and tricks to make him even sneakier than before.
A new "Mark and Execute" command lets Fisher take down opponents faster, but stealth is still required to make your escape.
"Splinter Cell Conviction" is rated M (blood, drug reference, intense violence, sexual themes, strong language) and available for the PC, iPhone and Xbox 360 on April 13.
"Monster Hunter Tri" (Capcom) is a RPG game for the Wii in which you battle monsters with huge, oversized weapons, collect loot and then do it again. The Wii controllers make it more than just a button-mashing game and the early release in Japan is doing very well.
"Monster Hunter Tri" is rated T (blood, use of alcohol, violence) and available only on the Wii on April 20.
The 2010 FIFA World Cup in South Africa kicks off in June, but why wait to see who will hoist the gold trophy. "2010 FIFA World Cup South Africa" (Electronic Arts) will let you carry your favorite team to glory and includes all 10 stadiums that will be used in South Africa as well as regional stadiums.
The game is not rated yet, but will be available on the PS3, Xbox 360, PSP and Wii on April 27.
May marks the return of the Prince as "Prince of Persia: The Forgotten Sands" (Ubisoft) takes us back to the deserts. Our hero is forced to do whatever is necessary to save the kingdom. The Prince gets a partner in this chapter of the saga, but wait until you see at what cost.
"The Forgotten Sands" has a tentative rating of T+, but that rating is not final. The game will be out for the PS3, PSP, Xbox 360, Wii and DS on May 18.
"Modnation Racers" (Sony) has been called a cross between "Mario Kart" and "Little Big Planet." Players can customize their vehicles, the drivers and just about everything else.
If you aren't feeling creative, there are many pre-made elements to let you dive right into the racing portion. "Modnation Racers" is rated E for everyone and will be out on May 25 for the PS3 and PSP.
June begins with the next installment in the now-classic series in golf games, "Tiger Woods PGA Tour 11" (Electronic Arts). This version integrates the Ryder Cup into the mix as well as online team play.
Tiger is also sharing his cover art this year with Irish golfer Rory McIlroy to give it more of an international flavor. "Tiger Woods PGA Tour 11" is rated E and will be out on June 8 for the Xbox 360, PS3 and PSP.
Snake is back and ready to kick tail. "Metal Gear Solid: Peace Walker" (Konami) takes us back to the 1970s where the "Soldiers Without Border" group gets its start with Snake in the lead.
Gaming Web sites are already touting this as the PSP Game of the Year, but hold those expectations in check until the final version comes out on June 8.
It is a PSP-exclusive and has a tentative rating of M. There are also reports that Snake may be appearing in other games, so keep your eyes open.
"Metroid: Other M" (Nintendo) lets players switch from 2-D side-scroller to 3-D action-adventure as Samus' past is explored. It is going to be a Wii-exclusive title so expect some unique gameplay using the Wii controllers. "Metroid: Other M" is expected out on June 27 with a T rating.
June will also be the premier of Harry Potter – in Lego form. "LEGO Harry Potter: Years 1-4" (Warner Bros. Interactive) chronicle the boy wizard's adventures in "Sorcerer's Stone", "Chamber of Secrets", "Prisoner of Azkaban", and "Goblet of Fire" in blocky, Lego fun.
"LEGO Harry Potter" will be available for the Xbox 360, Nintendo DS, Wii, PC, PS3 and PSP in June (no specific date yet).
Plenty of other games will be filling in the gaps including some movie tie-ins ("Iron Man 2", "Clash of the Titans") and a new Mario game ("Super Mario Galaxy 2") that offers up some new powers for the famous plumber and his faithful dino, Yoshi.
Casting a long shadow this summer is the expected release of "StarCraft II" (Blizzard). They've been working on this title for years and released a closed beta to select gamers for testing. A spokesman for Blizzard said they are on track for a mid-2010 release, so don't be surprised if Terrans, Zerg and Protoss descend on your PC this spring.
What are you looking forward to in the next three months? New titles or DLC for ones you already own? Let us know!
Posted by: Larry Frum for CNN.com
Filed under: Games • Gaming • Nintendo • Sony • Tiger Woods • video games