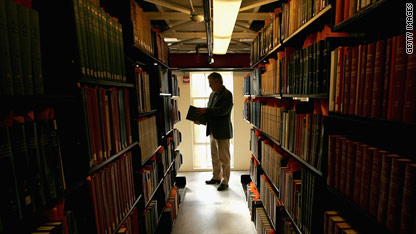 Photographers and illustrators filed a lawsuit against Google on Wednesday, claiming that the search engine displays copyrighted images in books it scans, without fairly compensating the people who created the images.
The American Society of Media Photographers is leading the class-action lawsuit, which was filed on Wednesday in U.S. District Court in New York, according to a news release.
Visual artists were not allowed to join a previous lawsuit filed against Google by book authors and publishers, who charged that Google was not fairly compensating them for books and excerpts posted online as part of its Google Books project. That project aims to digitize the world's books, creating a huge online library.
The Google Books legal action, initially filed in 2005, is expected to be settled soon; however, Wednesday's lawsuit over visual art on Google could keep the search engine in court on copyright issues for longer.
"We are seeking justice and fair compensation for visual artists whose work appears in the 12 million books and other publications Google has illegally scanned to date," Victor Perlman, general counsel for the photographers' organization, said in a written statement. "In doing so, we are giving voice to thousands of disenfranchised creators of visual artworks whose rights we hope to enforce through this class action."
James McGuire, who represents the ASMP in the lawsuit against Google, told the Financial Times that the visual artists "are not trying to crash the party or influence what is happening with the other class action. We are just trying to get the best possible result for this class of plaintiffs."
Google says its trying to make information more universally available.
"We are confident that Google Books is fully compliant with U.S. and international copyright law," Gabriel Stricker, a Google spokesman, wrote in an e-mail message to CNN.
"Google Books is an historic effort to make all of the knowledge contained within the world's books searchable online. It exposes readers to information they might not otherwise see, and it provides authors and publishers with a new way to be found."
The ASMP is joined by the Graphic Artists Guild, the Picture Archive Council of America, the North American Nature Photography Association, Professional Photographers of America and others in its filing against Google.
Posted by: John D. Sutter -- CNN.com writer/producer
Filed under: Google • Google Books