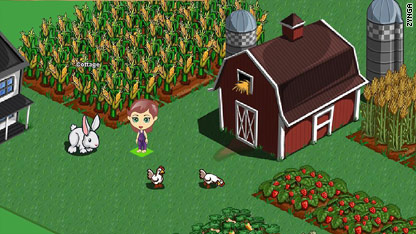 Fake crops on Farmville - the "free" social game that's become a huge hit on Facebook - cost a British mother some real cash after her 12-year-old son racked up $1,400 in charges on the game.
The Guardian reports that the pre-teen needed only about two weeks to empty his own savings account then start using his mom's credit card.
"When I asked him why he did it he said that they had brought out 'good stuff that I wanted,' " the mother, who asked not to be named, told the newspaper.
Farmville, which last month reported having more than 75 million monthly players, is free to play. But players can spend money on extras, like virtual crops, tools and barns.
Zynga, the company behind Farmville, Mafia Wars and other popular social games, says the games are designed to appeal to a wide cross-section of players, not just the typical young, male video game crowd.
The mother said the son's bills came to 905 British pounds - the equivalent of $1,373.
The British mother, whose hometown was not listed in the story, said she doesn't blame Zynga, Facebook or her credit card company, although she tried to get the money back.
But she said she wished there was extra security to prevent such spending.
"I do think they need to shoulder some responsibility in this business and put systems in place to stop this happening again," she told The Guardian. "The fact that he was using a card in a different name should bring up some sort of security and the online secure payment filter seems to be bypassed for Facebook payments."
She said her son was unable to make mobile phone payments - because his older brother had lost credit buying a ringtone a couple of years earlier.
"We sound terribly technologically unaware don't we?" she said.
Posted by: Doug Gross -- CNN.com producer
Filed under: Facebook • Gaming • video games