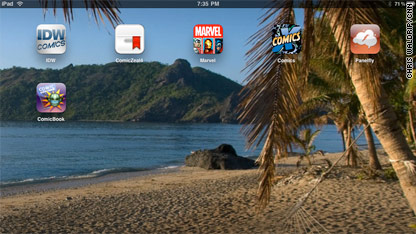 Comic book apps
Editor's note: Geek Out! posts feature the latest and most interesting in nerd-culture news. From scifi and fantasy to gadgets and science, if you can geek out over it you can find it on Geek Out! Look for Geek Out! posts on CNN's SciTech blog.
One of the more anticipated uses for the iPad was as an eBook reader for books, magazines, and newspapers. But comic books are one of the most popular print-format periodicals - and there has been little mention of the iPad as a comic reader.
Luckily for those of us wanting to use it as such, Marvel Comics put out the Marvel app in time for last week's release.
I've had my iPad for just over four days now. One of the first things I did was download the Marvel app and take it for a test drive.
The convenience of downloading your comics while sitting in a coffee shop, or anywhere else, is great. And the panel-by-panel flow lives up to the hype, although it doesn't really make reading comics on the iPad a new experience. Honestly, I could live without it.
So far, my personal favorite app for comics on the iPad is ComicBook. They have a pretty good desktop app for the Mac (ComicBookLover), which is very similar to iTunes (imitation... flattery... etc.).
Their iPhone app is in early alpha (0.3) but it is more than usable and available for free on the iTunes app store. You upload your files to your iPad over WiFi using either a second app on the Mac (ComicBookLover Sync) or by FTP (file transfer protocol). This will probably change since the iPad offers better file syncing through iTunes.
ComicBook hasn't been updated for the iPad yet, so the user interface is built for the iPhone's screen (you have to pixel-double to fill the screen). But once you open a comic, you forget about the zoomed look.
Comics look great. They don't have the automatic panel-to-panel feature of the Marvel app, but you can easily double-tap to zoom, and swipe to move around and change pages. I'm happy enough to just read them full screen though.
The apps, both made by Comixology, are indeed amazing - as long as you only want to read back issues (the Marvel app, obviously, only offers their own titles).
There are several other publisher-backed apps, but they don't come close to the quality of the Marvel and Comics apps. The list of available publishers, titles, and issues is small. For example I have yet to see any DC [a Time-Warner Company] titles, and I really need my Batman!
That's where independent apps come in. While they don't have deals with publishers, they do let you read CBR and CBZ (comic book RAR and comic book ZIP) files, and in some cases even PDF files. CBR and CBZ files are ZIP or RAR compressed files that contain JPEG images of each page of a comic. So an entire issue is packaged in one file.
But how and where you get these files is the real moral dilemma. You can't buy them online. So you either have to scan your own comics or find them in shady Internet back alleys and download them with programs like BitTorrent.
The music industry already had this battle with downloaded music files. Once they figured out they could sell music and make money, they backed the music downloads. The movie industry is just getting up-to-speed on downloadable and streaming video (Netflix, Amazon, iTunes, etc). So how about the comic book industry? It seems the publishers are ignoring history.
I'd be more than happy to pay cover price (maybe a bit less) for current titles. I'd even pay a bit over cover price to get my comics early. Maybe a monthly fee for all-you-can-eat (like Rhapsody and Zune do with music)?
And they can feel free to put as much DRM on the files as they want (although iTunes has removed DRM and the world hasn't ended just yet). Just let me back up the files if I've bought individual issues - don't make them expire in three years - and let me read them on my computer and my mobile device. My bag, board, and long box collector days are way behind me, but I still like the stories.
What's your favorite comic book app? Anything you're looking for that the current apps don't provide?
Posted by: Chris Waldrip for CNN.com
Filed under: Geek Out! • pop culture