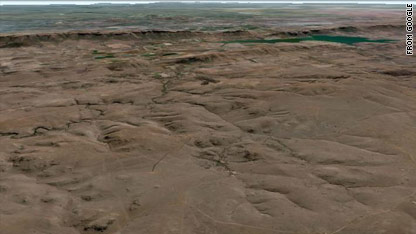 Sometimes when you're looking for something, and you really want to find it, the best thing you can do is step back from the situation a bit.
That's kind of what happened recently for scientists in South Africa, who announced Thursday that they found a new and important link in the human family tree. The University of the Witwatersrand archeologists didn't find the skeletal remains of a new hominid species, Australopithecus sediba, just by trudging around on foot.
They used satellite images from Google Earth.
[Read CNN's story about the find]
In 2008, when they started their search in Cradle of Humankind World Heritage Site in South Africa, there were 130 known caves, which tend to yield archeological finds.
After the team surveyed the area with high-res satellite images, they discovered 500 caves, "even though the area is one of the most explored in Africa," writes Google's Michael Jones in a blog post. So, in effect, the satellites helped up the odds for a discovery - or at least gave researchers more places to look.
Google put together a cool list of other times satellite imagery has been used to make discoveries. I'll paste some highlights below, and let me know if you've heard of other instances. I'm sure NASA or others have used GPS to advance research, too.
The fact that cows are magnetic (kind of)
Posted by: John D. Sutter -- CNN.com writer/producer
Filed under: Google • Google Earth • science • Scientists