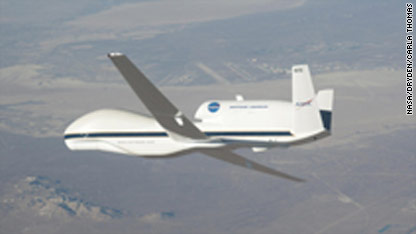 Global Hawk in flight
Flying higher, farther and without a pilot.
NASA's Global Hawk plane can fly to altitudes of 60,000 feet – way above normal flight paths – and as far as nearly half way around the world. It does this completely automatically, without the aid of a pilot or controller.
The plane follows a preprogrammed flight path and can stay aloft for nearly 30 hours while staying in contact with NASA's Dryden Flight Research Center via satellites. The Global Hawk maiden voyage took it over the Pacific and Arctic oceans to study the atmosphere over those bodies of water.
Researchers hope that the plane's range and endurance will make it ideal to sample and measure greenhouse gases, ozone and air quality over a wide area in a short period of time.
"We can go to regions we couldn't reach or go to previously explored regions and study them for extended periods that are impossible with conventional planes," said David Fahey, co-mission scientist and research physicist.
Scientists expect the high altitude flights to let them measure dust, smoke and pollution that cross the Pacific from Asia and Siberia and affect U.S. air quality. The Global Hawk is scheduled to make four more flights this month over the Pacific and Arctic areas.
Global Hawks – obviously not retro-fitted with scientific sensors – are also used by the U.S. Air Force for intelligence, surveillance and reconnaissance. They were recently used after the Haiti earthquakes to provide more than 3,600 images of affected areas to help with disaster relief.
Posted by: Larry Frum for CNN.com
Filed under: Aviation • climate change • environment • greenhouse gas • NASA • Space