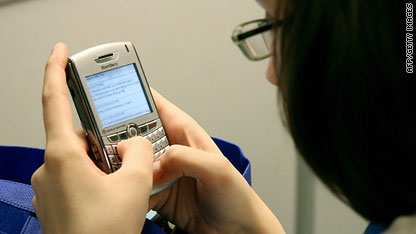 Twitter rolled out its official app for the BlackBerry on Friday, adding a specialized version of the micro-blogging site to the most popular smartphone platform.
According to Twitter's official blog and the BlackBerry Web site, the Twitter app features include:
_ Real-time "push" notifications for direct messages on Twitter
_ Camera and photo integration
_ Notifications when you're Twitter user name is mentioned
_ Integration that links to Twitter when you get a text message or e-mail that includes someone's user name
"Working closely with [BlackBerry maker] RIM to deliver the official Twitter app has been a great experience and we are looking forward to bringing more and more Twitter innovation to BlackBerry," Twitter's blog post said.
The free Twitter app was made available Friday on BlackBerry's Web site.
Apple's iPhone and Google's Android phones seem to get all the buzz, but BlackBerry is still hands down the leader in the smartphone field. But do people think of them more as work tools than social-networking devices?
Will you be tweeting on your BlackBerry?
Posted by: Doug Gross -- CNN.com producer
Filed under: smartphones • Twitter