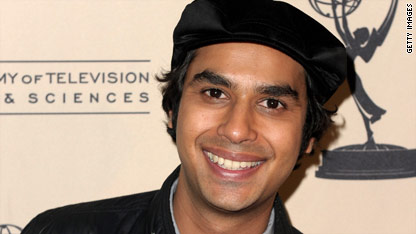 Kunal Nayyar
Editor's note: Geek Out! posts feature the latest and most interesting in nerd-culture news. From scifi and fantasy to gadgets and science, if you can geek out over it you can find it on Geek Out! Look for Geek Out! posts on CNN's SciTech blog.
Kunal Nayyar plays a shy astrophysicist from India named Raj Koothrappali on the CBS hit sitcom "The Big Bang Theory," which airs Monday nights. In real life, he is also Indian and a geek, but not so timid. CNN's Geek Out! caught up with him a few days after he wrapped up shooting the show's season finale.
Q: How did you get into acting?
A: I had done some stuff when I was in Delhi in high school, but nothing major. When I moved to America, I was studying in a small school in Portland, Oregon, called the University of Portland, and I didn't really have any friends. So I thought I should audition for a play so I could meet girls. And I auditioned for this play and I got in and I was terrible…
I realized very quickly that I'm just really bad at this, but I want to get better. I started taking all the acting classes – I still ended up getting my degree in business - but I took all of the acting classes and hung out with all of the theater kids, and I was like the theater geek by the end of my undergrad.
Then I went and got my master's in acting at Temple University in Philly, and then I bounced all over the place and I ended up on the Big Bang Theory.
Q: What about that show appealed to you?
A: It was a Chuck Lorre pilot, and it was a multi-camera show, which is very close to theater - the world that I knew - and it was really funny. I didn't look at it and say, oh this is a perfect geek comedy, I just read it and said, Oh my God, this is brilliant writing, this is so funny.
Q: How would you describe your character, Raj?
A: Not only does he have trouble mingling with the outside world, he also has trouble mingling because he's a foreigner… it's a double-edged sword he's fighting. He feels very comfortable with these guys because they're everything to him, you know what I mean? He's so dependent, especially on Howard, but these guys are his family and his life, because he feels completely at ease with them.
And of course, you know, he suffers from selective mutism, which comes from his pathological shyness, and he can only talk to women when he drinks.
Inside Raj lives a beast, like a rapper or like a player or like a mogul, because every time he drinks he becomes this smooth, suave, picking-up-girls kind of guy. So I think there's a beast that lives inside him.

Q: To what extent do you think you're like Raj?
A: I think if Raj could let the beast out, that would be Kunal. I think Kunal is the beast that's living inside Raj. Not that I am a mogul or a player or anything, but in essence I have the freedoms that he doesn't.
Kunal is very much like Raj because I also sometimes I have to fight that double-edged sword, fitting in socially as well as internationally. And I think Raj is kind of mischievous and I'm pretty mischievous. Things excite Raj very easily, he gets excited very easily when it comes to video games or women or anything, and I'm sort of like that too.
Q: Do you relate to the geek culture of the show?
A: Yes. 100 percent. I know what it feels like to be passionate about something, and I think what makes these characters so lovable and kind of sexy to people now is that people really respond to people who are passionate about something. And these guys are very passionate about their lifestyle. They're very passionate about comic books, they're very passionate about what they wear, they're very passionate about their work.
So the term 'geek' or 'nerd' it really just transcends to someone who's very passionate about a certain lifestyle. You see a lot of people living their lives in the middle. These guys don't. They don't live their life in the middle, they go for whatever they want. And of course, according to the regular society it's really not the norm, but I think I guess we share that similarity: I'm very passionate about my craft and my acting, and these guys are very passionate about astrophysics.
Q: Do you consider yourself a geek in real life?
A: In many ways. You know, like I said, I love video games – I'm in the middle of God of War III and I can't wait to finish it – and I love video games, but at the same time I love sports. I love playing ping pong – ping pong is my sport, badminton is my sport, which is really geeky in essence. But at the same time I love watching football.
I love Archie and Jughead comics. There's a board game called Star Wars Epic Duals that's out of print now, Hasbro used to make it, and I spent one day 36 hours with my friends playing that game. I went to theater school – I'm pretty geeky in certain ways. But not as extreme as the guys in the show.
Q: Did you have to learn any science for the show?
A: I didn't have to learn it beforehand, but I do keep learning as we go along. We have a real-life scientist who's a consultant on the show… he's on set a lot and we have a lot of questions for him, and all the science is real.
Q: What's an example?
A: If you mix cornstarch and water and you put on top of a bass speaker with cellophane, it like bounces up and down and creates these crazy ghost-like figures. Try it: cornstarch and water. It'll blow your mind.
Q: Are you planning any other projects?
A: Right now I'm just in the process of sleeping, and when the time is right I will be diving into some stuff. But nothing is solid yet, so I'm not allowed to really say.
Q: Did you wrap up the show?
A: We just wrapped on Tuesday [April 6]. It's great. It's nice to have a little break. We'll be back in August, and we're going to rock it one more season, and hopefully many seasons beyond.
Posted by: Elizabeth Landau -- CNN.com Writer/Producer
Filed under: Geek Out!