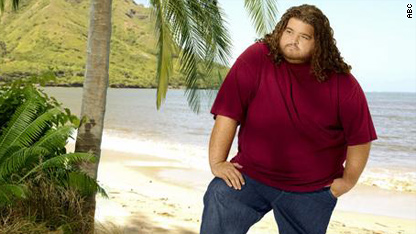 Lost's Jorge Garcia
Editor's note: Geek Out! posts feature the latest and most interesting in nerd-culture news. From scifi and fantasy to gadgets and science, if you can geek out over it you can find it on Geek Out! Look for Geek Out! posts on CNN's SciTech blog.
Dude. For a character who just appeared to be comic relief early on, Hugo "Hurley" Reyes (Jorge Garcia) has been a crucial part of "Lost" throughout its six-season run, as the "voice of the fans," and particularly in this season, taking on something of a leadership role. When you think about it, Hurley has really been the linchpin that has held the show together.
The guy who considered himself cursed after winning the lottery (thanks to those ever-present "numbers" - more on that in a moment) considers himself the luckiest man alive, in the "flash-sideways" timeline. It looks like we'll find out more about that in tonight's new episode.
Last week, we caught up with Desmond, who has been a key character to "Lost's" mysteries since the second season, but in his own way, Hurley has been connected to many of the major plot points of the show. There are the aforementioned numbers, which we now know correspond to "candidates" to replace Jacob, one of which is Hurley himself. Whether or not we'll learn any more about whether those numbers are indeed "cursed" remains to be seen.
In both realities, Hugo owned a box company with his lottery winnings, a company which employed John Locke, one of the most important characters on the show. On the island, he met Ethan, and his decision to conduct a census led to the castaways' first discovery of the Others. He also fell in love with Libby, who helped Desmond get to the island, and whose death (along with Ana Lucia) at the hands of Michael was a turning point in the series.
Hurley's ability to see the dead (not related, it appears to be "Smokey's" ability to take on their form – or is it?) came into focus last season, as various dead castaways visited him off the island. Hurley's importance really came into focus as he was visited by the still-living Jacob and specifically told to go back to the island with his scroll (in the most needlessly-elaborate possible way, but that's a discussion for another day).
Then after Jacob died, Hurley became his messenger and took charge for a time while Jack, Sawyer and others seemed more confused than anything else by the events following "the incident."
The best part of Hurley's personality has been his willingness to ask the obvious questions most fans would ask. The most memorable example of this would be in the second season, when he started to become convinced that the island was just his dream, in a tour de force episode which explained why that once-popular theory was not the case.
More recently, I was overjoyed to see that Hurley voiced the well-known fan theory that the skeletons in the cave are two of the castaways. And I was even more pleased to see him finally be the one to ask Richard why he never ages (at long last)!
Whether building a golf course, driving around in an old Volkswagen van, or jumping into the ocean, Hurley knows how to find the fun. And he did what any geek fan would do when time traveling to the 1970s: write "The Empire Strikes Back" script from memory. (That's certainly what I would do.)
Finally, if there's one big "Lost" mystery which I hope will be explained, it's this one: what was the deal with that bird that said Hurley's name at the end of season two? Seriously, I gotta know.
It's clear that Hurley is important, and this week's episode should give us a better idea as to what his role will be in the big series finale. Meanwhile, Geek Out! and CNN iReport want your ideas for how "Lost" should end. Share your video telling us what should happen on the series finale (but keep it short, 30 seconds or less)! In the meantime, Do you share my appreciation for Hurley? If so, share your favorite Hurley moment in the comments below (and if not, who is your favorite "Lost" character and why)?
Posted by: Henry Hanks -- CNN iReport Associate Producer
Filed under: Geek Out!