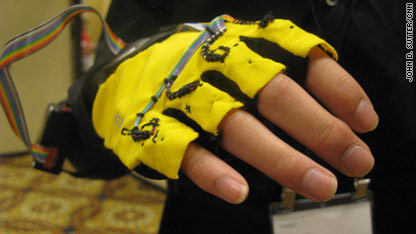 Atlanta, Georgia - Thad Starner, a pony-tailed Georgia Tech professor, started a talk at an emerging technology conference here with a question for the audience:
"How many of you want to play a musical instrument but don't because it takes too much time to practice?"
Several people raised their hands.
"Yep, I'm the same way."
His solution? A yellow and black glove, stylish enough for Michael Jackson, and fitted with buzzers just above the knuckles.
The glove is designed to teach people to play uber-simple piano licks while they're doing other tasks - or, in other words, while they're not trying to learn.
To this point, Starner wore the glove during his lecture. The buzzers in the glove vibrated his fingers one at a time, teaching him the piano fingering for Beethoven's "Ode to Joy." He wore an earbud that played the simple melody in one of his ears, in synch with the finger stimulations.
In trials, Starner said this kind of background learning works rather well. In the most recent test, subjects completed reading comprehension tests while wearing the glove. Nine of 16 of them were able to play the melody perfectly.
Starner said he'd never done this sort of while-giving-a-presentation test of the piano glove before. At the end of his talk, he played Beethoven's simple song without trouble.
After the presentation, Starner said the true value of his project may not be in learning the piano but in rehabbing patients with brain and spinal cord injuries. He said he worked with a quadriplegic man, in his 70s, whose hands were so clawed up that he couldn't button his shirt.
The finger-stimulating glove helped him get that ability back, he said.
And he learned a little piano in the process.
Posted by: John D. Sutter -- CNN.com writer/producer
Filed under: computers • multi-tasking • Music