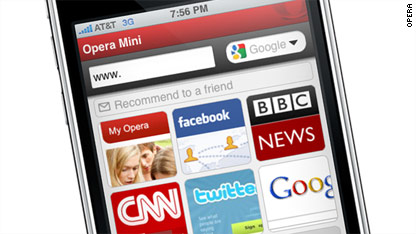 Lost's Jorge Garcia
Surprise, surprise - an app from Web browser company Opera that promises faster surfing in the iPhone and iPod Touch was approved for the Apple store Tuesday, the Norwegian company said.
The free app, which Opera says will cruise the Web up to six times faster than Apple's Safari browser, is expected to be available later today or Wednesday.
The announcement comes after speculation over whether Apple would sign off on the app. The company has taken a hard line on denying outside applications that compete with Apple-created software already on the iPhone.
Opera, which had challenged Apple by launching a months-long publicity blitz before even submitting the app, maintains its browser has strengths different enough from Safari to justify its addition to the Apple Store.
"We are delighted to offer iPhone and iPod Touch users a great browsing experience with the Opera Mini app," said Lars Boilesen, CEO of Opera Software. "This app is another step toward Opera's goal of bringing the Web to more people in more places."
Opera says its browser moves faster by compressing roughly 90 percent of data on a Web page before rendering it. While that doesn't work well for complicated online functions, it makes simply reading Web pages quicker, Opera says.
In the smartphone market, Opera was already available on BlackBerry, Windows Mobile, Palm and Android platforms.
Opera Mini also runs on the Symbian platform and is huge on mobile devices, which accounts for many of its more than 50 million monthly users worldwide, according to the company.
Posted by: Doug Gross -- CNN.com producer
Filed under: iPhone • mobile phones • Web browsers