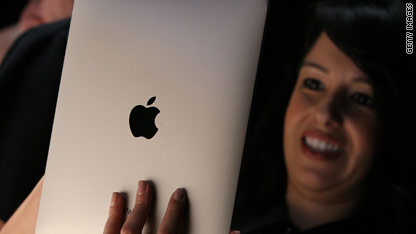 Apple fans in Japan, the United Kingdom and seven other countries will have to wait longer to get their hands on iPads.
Apple is postponing the international release of its new iPad because of stronger-than-expected demand for the device in the United States, the company said Wednesday.
A statement posted on Apple's Web site said Apple has delivered more than 500,000 iPads since they went on sale in the United States on April 3 and the company expects demand to stay high.
"Faced with this surprisingly strong U.S. demand, we have made the difficult decision to postpone the international launch of iPad by one month, until the end of May," the post said.
The slate computer was originally scheduled to go on sale April 24 in Australia, Canada, France, Germany, Italy, Japan, Spain, Switzerland and the United Kingdom.
Apple now will begin taking international pre-orders on May 10.
"We know that many international customers waiting to buy an iPad will be disappointed by this news, but we hope they will be pleased to learn the reason - the iPad is a runaway success in the U.S. thus far," Apple's post read.
The iPad is a touch-screen, wireless computer that occupies the digital turf somewhere between a laptop and a smartphone. The model available now in the U.S. connects to the Internet over a Wi-Fi connection. Later this month Apple will start selling an iPad version that connects to the Web via 3G wireless service from AT&T.
Posted by: Doug Gross -- CNN.com producer
Filed under: consumer tech • iPad