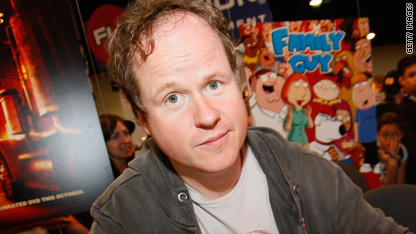 Writer/director Joss Whedon
Editor's note: Geek Out! posts feature the latest and most interesting in nerd-culture news. From scifi and fantasy to gadgets and science, if you can geek out over it you can find it on Geek Out! Look for Geek Out! posts on CNN's SciTech blog.
Joss Whedon, creator of "Buffy the Vampire Slayer," "Firefly" and "Dollhouse," not to mention one of the biggest geek icons in Hollywood, has been tapped to direct the "Avengers" movie, Variety reports. Commence dance of joy in 5, 4, 3...
But seriously, this is probably one of the smartest moves Marvel Studios has made in its short history - yes, even smarter than hiring Jon Favreau to direct "Iron Man."
"The Avengers," for the uninitiated, is Marvel Comics' supergroup of heroes, in this case consisting of Iron Man, Captain America, Thor and the Hulk. In short, it is potentially the Marvel Comics superhero movie to end all Marvel Comics superhero movies.
Robert Downey, Jr. will, of course, play Iron Man, along with Chris Evans, recently signed to play Captain America in the movie of the same name. Chris Hemsworth will take on the role of Thor, after his own movie in 2011. (One big question mark is whether Ed Norton, who reportedly refused to promote 2008's "The Incredible Hulk" due to a dispute with producers, will return as the Hulk.)
One need look no further than the t-shirts that say "Joss Whedon is My Master Now" to see why this is a genius move by Marvel. The core fanbase will now be itching to see what Whedon does with "Avengers," especially after his well-received feature directorial debut for "Serenity" (box office receipts notwithstanding).
He can more or less do no wrong among his fanbase (myself included, though the early episodes of "Dollhouse," and a couple of seasons of "Buffy" and "Angel" left much to be desired).
What's left to determine? How closely will this movie adhere to some of Whedon's signatures: Will the Mighty Thor burst into song, a la "Dr. Horrible's Sing-Along Blog?" Will one or more major characters get killed out of nowhere in the last third of the movie?
Exactly how much of Amy Acker or Alan Tudyk will be in it (the correct answer is "as much as possible")?
Alright, Whedonites (and Whedon detractors): What do you think of this announcement? Are you as psyched as I am... and a little worried, since Whedon was supposed to direct "Wonder Woman" once upon a time? Sound off in the comments below!
Posted by: Henry Hanks -- CNN iReport Associate Producer
Filed under: Geek Out! • pop culture