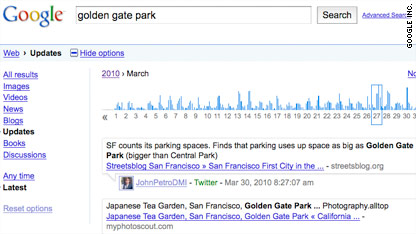 It's already easy to find relevant Twitter updates in Google real-time search results. Now, thanks to a new Google feature, you can see what people were tweeting about a topic last week or last month.
Google on Wednesday introduced a "replay" feature that allows users to search tweets posted at any given point in time - down to the minute.
Let's say you're curious to see what people were tweeting about Kathryn Bigelow the night of the Academy Awards on March 7. After you type her name into Google's search field, select "Show Options" on the results page and then click "Updates."
A timeline will appear above the results, allowing you to zero in on tweets by the hour or minute. They spiked late in the Oscars telecast, when excited viewers began tweeting about Bigelow becoming the first woman to win Best Director.
Here's a preview of what the new feature looks like.
"By replaying tweets, you can explore any topic that people have discussed on Twitter," wrote Dylan Casey, Google product manager for real-time search, in a post on Google's blog.
For now, users can explore tweets going back about two months - to February 11 - although Google promises that you'll soon be able to search as far back as the very first tweet on March 21, 2006.
Posted by: Special to CNN, Stephanie Goldberg
Filed under: Google • Twitter