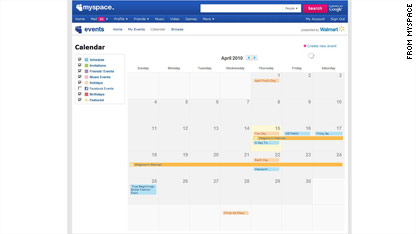 MySpace, which has long been an online hangout for musicians and music fans, is now making it easier for users to keep up with musical happenings.
The social-networking site unveiled its new global events calendar Thursday. Called MySpace Events, the feature is a "global platform that supplies artists and users with tools to create, discover and share events including an easy-to-use calendar," said Marcus Womack, director of events and ticketing, in a MySpace blog post.
Users also will have the opportunity to sync their MySpace Events with Facebook and Twitter, making it easier for people to manage their "entire social calendar and share events across the Web," Womack said.
MySpace will add different types of events - sports, nightlife and arts happenings - in addition to the "concerts and pop culture events" already featured on the site, Womack said.
The site also will allow users to receive alerts about future shows of their choice and purchase tickets through MySpace, a service made possible by the site's partnership with Ticketmaster and Live Nation.
Posted by: Special to CNN, Stephanie Goldberg
Filed under: MySpace