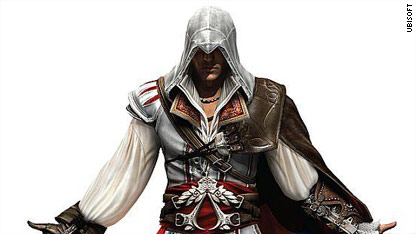 World Record holder
Most world records associated with gaming are for long game play (see: Asteroids record), but one game will be honored for how well it was featured.
"Assassin's Creed II" (Ubisoft) picked up the Guinness World Record for most covered-featured video game. The action-adventure game was used as a lead cover story on 127 different publications in 32 countries, between April 2009 and April 2010.
In the United Kingdom alone, the massive press campaign for "Assassin's Creed II" achieved 17 front covers, over 340 pages of specialist press coverage and 14 review awards. Guinness officials were surprised by the reach of the game.
"I'm sure plenty of commentators, including myself, would have predicted another well-known game winning the title instead, and this achievement is even more impressive in view of the other 2009 releases that 'Assassin's Creed II' was able to beat," Gaz Deaves, Editor of "Guinness World Records Gamer's Edition," said.
Deaves said they initially thought a classic arcade game would have been the record-holder (i.e. – "Pac-Man", "Space Invaders") because they've been around for far longer. But, he said, few magazines took an interest in gaming when those games were big.
After examining more recent titles, including "Grand Theft Auto IV", "Modern Warfare 2", and "Halo 3", Deaves and his team verified "Assassin's Creed II" as the winner.
Ubisoft spokeswoman Lisa Revelli said many journalists worldwide made requests to have the game featured on their front covers. Revelli said "Assassin's Creed II" has sold 9 million units worldwide since its release in November 2009.
The record will be shortlisted for entry in the next edition of Guinness World Records Gamer's Edition.
Posted by: Larry Frum for CNN.com
Filed under: Games • Gaming • video games