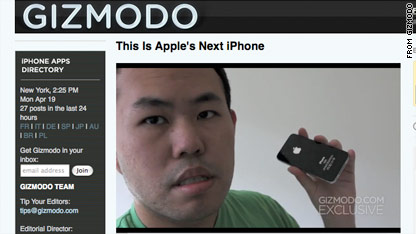 It looks like Apple employees should be keeping their top-secret, next-generation iPhones out of bars.
In a post simply titled "This is Apple's next iPhone," tech blog Gizmodo on Monday showed video of a phone they say is almost certainly a version of the smartphone due to be released this summer.
The phone was found in a bar in Redwood City, California, about 20 miles from Apple's headquarters in Cupertino, according to the post by Gizmodo's Jason Chen with reporting help from several other staffers.
"We're as skeptical - if not more - than all of you. We get false tips all the time," the post read. "But after playing with it for about a week - the overall quality feels exactly like a finished final Apple phone - and disassembling this unit, there is so much evidence stacked in its favor, that there's very little possibility that it's a fake."
According to the post, the phone had been camouflaged to look like a currently available iPhone.
The Gizmodo post says the phone they found has the following features:
_ flash for its camera
_ a front-facing camera for video chatting
_ higher-resolution display
_ a metallic band wrapping around the outside, with metallic volume buttons
_ a flat back, with a glass-like clear panel and thinner body than the current iPhone
_ a bigger battery
Gizmodo obviously wasn't offering too many details about how they got their hands on the phone.
But in the post, Chen wrote that the person who found it was able to run Apple's new iPhone 4.0 operating system before that system was officially announced last week.
Apple remotely killed the phone's operating system before Gizmodo got their hands on it, he wrote.
The find was being widely considered the real deal in the tech world.
"At this point we're pretty much certain it is this summer's new model," wrote Wired magazine. "Somebody at Apple is in big trouble."
Tech blog Engadget posted photos Saturday from a tipster showing a phone similar to the one Gizmodo displayed.
Posted by: Doug Gross -- CNN.com producer
Filed under: iPhone • smartphones