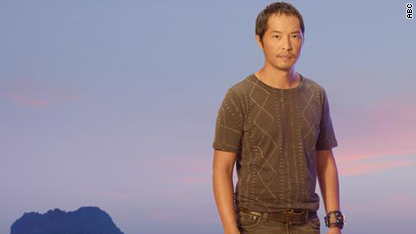 Miles can hear dead people
Editor's note: Geek Out! posts feature the latest and most interesting in nerd-culture news. From scifi and fantasy to gadgets and science, if you can geek out over it you can find it on Geek Out! Look for Geek Out! posts on CNN's SciTech blog.
When "Lost" began, Charlie, after encountering just a few of the many strange things about the island where the passengers of Oceanic Flight 815 crash-landed, asked one of the series' central questions: "Where are we?"
Now, with just a few episodes to go, we're a lot closer to figuring out the answer and getting explanations for some of the bizarre occurrences on the island.
So let's talk bizarre occurrences. "Lost" characters experience walking, talking dead people in a few different ways - they can see them, feel their presence, hear them in a flurry of whispers and sometimes have long conversations with them.
At this point, we know that a lot of that can be attributed to the Smoke Monster, or the Man in Black... but not all of it.
One character often visited by friends who are no longer living is Hurley. Whether on or off the island, deceased people from his past visit and usually have very strong opinions on what he should do next.
Then there's Miles, who in a flashback from Season Four, was seen working as a medium for hire, exorcising spirits or getting them in touch with dead loved ones. He even uses a strange vacuum-like device at one point, though his abilities have more to do with getting information from dead bodies.
How do these portrayals of ghosts compare to the beliefs of those with interest in the supernatural - and who are using high-tech means to try to prove (or disprove) its existence?
"Lost" fan Dan Bernstein of Roswell, Georgia Paranormal Investigations (a "family member" of The Atlantic Paranormal Society or TAPS, made famous by the TV series "Ghost Hunters"), said the two are different kinds of mediums: "Hurley has what would be described as having a 'clairvoyance' ability – which allows him to see and communicate directly with the spirit as if they were there with him."
As for Miles, he has a "clairsentience" ability, according to Bernstein, meaning he can sense them, instead of communicate with them directly.
"You often see him touching something belonging to or close to the body of the deceased and he then senses their last thoughts before death."
Their cases would certainly be seen as out of the ordinary to the real-world paranormal investigations community. Bernstein says that most people don't have such abilities.
He does maintain, though, that ghosts can be observed as sounds, disembodied voices or, on rare occasions, as full-body apparitions or "shadow people."
Paranormal investigators often use electromagnetic field (EMF) detectors to look for evidence of ghosts.
"With EMFs, the thought is that in order for paranormal activity to occur, the entity needs to draw energy in order to manifest itself," said Bernstein.
He said sensors are normalized in an area and that their readings spike when there's paranormal activity.
Skeptics say there is no evidence that such instruments can be used to detect supernatural phenomena.
Bernstein's response: "Our team never relies solely on EMF readings as evidence of the paranormal," instead taking other occurences into account as well.
Electromagnetic phenomena should be very familiar to fans of "Lost." The island's special electromagnetic qualities are the main reason for the Dharma Initiative that Charles Widmore and others are so interested in it.
In the scientific community, however, real studies of electromagnetism are not fraught with peril, danger and mystery as portrayed on the show.
Gregory Durgin, an associate professor at the School of Electrical Computer Engineering at Georgia Tech, researches electromagnetism, often using an electromagnetic spectrum analyzer to chart activity.
"It has a lot of interesting applications: is the area safe for people to be in? Every company that has an electronic device has to look at that," he said.
"Lost's" island has extremely high levels of electromagnetism, which must be contained - the Dharma Initiative worked tirelessly to do so when they were there performing experiments.
When it was unleashed, the magnetism was so strong it caused a plane to crash.
How dangerous can electromagnetism actually be?
"The government regulations are pretty conservative... some frequencies are more dangerous than others," said Durgin. "You would be a lot more concerned about a watt of ultraviolet light coming down on you than a watt of radio frequency… once you surpass those exposure limits you still need some pretty prolonged exposure to get into a danger zone."
What about when unusually high levels are found somewhere? Is this seen as something unexplained - supernatural or otherwise?
"Usually when you see a lot of electromagnetic strength, you've gotta find out what piece of equipment is causing it and fix what is causing it. If it's more of a mysterious source, you have to grab your equipment and drive around and ferret out that source," he said.
He said the "unexplained" sources often end up being unlicensed radiators used for pirate radio stations and the like. Then, the FCC gets contacted instead of, say, entering a set of numbers into a computer every 108 minutes.
As for electromagnetism behaving the way it does on "Lost?" "Magnetism in nature has a diverse and complicated physics, but there is always one universal property that we observe: it's extremely weak," Durgin said.
He does, however, hold out the possibility of the existence of "magnetic charges," a purely hypothetical particle in physics: "If magnetic charges existed, many of the island phenomena would be plausible."
So why is electromagnetism portrayed in such a way on "Lost" and other movies and TV shows? According to Durgin, "If people can't see it in their mind it takes on a more mysterious or dangerous quality."
Whether you choose to believe or not, it certainly seems that "Lost" executive producers Damon Lindelof and Carlton Cuse have done their homework when it comes to modern day thought about the paranormal.
As for scientific studies into electromagnetism, however, a lot of what we see on the show still exists only in the realm of theory.
Join us every Tuesday as "Geek Out!" dwells on the geekiest aspects of one of our favorite television shows. In the meantime, we invite you to sound off on ghosts and the supernatural on "Lost" in the comments below, and share your wish list for the series finale on video.
Posted by: Henry Hanks -- CNN iReport Associate Producer
Filed under: Geek Out!