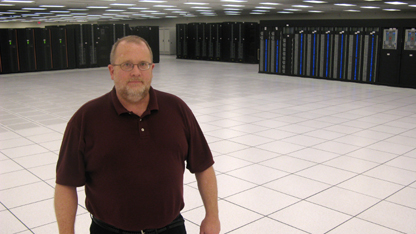 I visited the seventh-fastest computer in the world today, at the Lawrence Livermore National Laboratory, about an hour east of San Francisco, California.
At first, I thought the idea of "supercomputing" seemed pretty 1990s. Supercomputers fill enormous rooms, suck down gobs of power and don't seem quite as sexy these days as tech that can fit in your hand.
And seventh-fastest? I mean, it's not first.
But, on a tour of the federally funded lab, Brian Carnes, one of the managers of this supercomputer, taught me a thing or two.
First of all, the stats were impressive:
_ One computer network here can do more than 700 trillion math problems in a second
_ The computer sits on an area that's nearly the size of a football field
More important, perhaps, are the applications the supercomputer supports.
[Side note: I can't vouch for all that's going on on these whirring machines because much of it is classified and signs all around the computer area remind employees not to tell visitors too much: "Unclassified discussions only," one sign read].
Some scientists at this lab use huge equations and mounds of data to try to predict what our warming climate will look like in the future. The computer crunches those. Others are trying to predict what will happen to the country's nuclear weapons stockpiles as they age - which is a safety issue, Carnes says, regardless of your stance on nukes.
The lab here is in an arms race of its own these days.
By 2012, it plans to add a new computer to the system, called "Sequoia."
Then, Carnes and others hope, the lab will have the world's fastest computer.
That means more math problems per second. More scientific research.
And another point for bragging rights.
Posted by: John D. Sutter -- CNN.com writer/producer
Filed under: climate change • computers • data centers