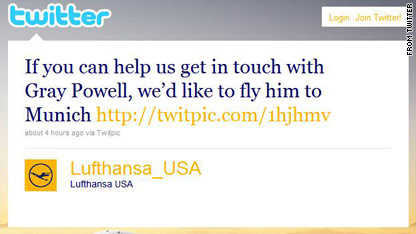 It's probably been a tough week for Apple engineer Gray Powell, what with him reportedly losing a next-generation iPhone in a bar, only to see photos of the super-secret device later spashed across the internet.
Tech blogs say Powell left the prototype, which was disguised as an iPhone 3GS, behind at Gourmet Haus Staudt, a German beer hall in Redwood City, California. The iPhone was later sold to tech blog Gizmodo for $5,000.
There's been rampant speculation that Powell is in trouble with Apple for losing the phone. But Lufthansa, the German airline, is offering to help the 27-year-old drown his sorrows.
The airline's director of marketing and customer relations has written an open letter to Powell, dated April 21 and posted on the internet.
"I recently read in the news that you lost a very special phone at a German beer bar in California," writes Nicola C. Lange. "We all know how frustrating it can be to lose personal belongings … at Lufthansa we also noted with great interest your passion for German beer and culture."
Lange goes on to say, "[Lufthansa] would like to offer you complimentary Business Class transportation to Munich where you can literally pick up where you left off."
The letter was attached to a tweet posted on the airline's Twitter page Thursday. It said, "If you can help us get in touch with Gray Powell, we'd like to fly him to Munich."
As marketing gimmicks go, this is a pretty good one.
There was no word as of late Thursday on whether Powell had accepted the offer. But if he does, maybe he should leave his iPhone at home.
Posted by: Special to CNN, Stephanie Goldberg
Filed under: Apple • iPhone