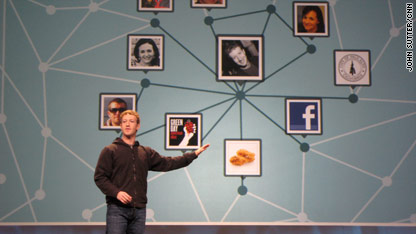 It's hard to make sense of Facebook's announcement from Wednesday's f8 conference without an analogy.
Here's one of my favorites:
"I think it's going to become the plumbing of the web," Alain Chuard, co-founder of Wildfire, a promotions app and website that piggybacks on Facebook's infrastructure, told me at the conference.
Others skip the infrastructure references and go straight to tech war:
"Facebook today launched its latest missile in the war against Google for the trophy of world wide web domination," wrote Jennifer Leggio at the blog ZDNet.
I wrote that Facebook is trying to turn the web into a big cocktail party.
Pick your metaphor. But the meaning is basically the same: As Facebook stretches its tentacles into websites other than its own, adding social and friend-making functionality along the way, the company is positioning itself not just as a website but as an essential piece of the Internet itself. It's infrastructure. It's piping. In this vision, it's the social lubricant that makes the Internet chatter.
That puts the site in obvious competition with Google and others who are trying to organize the Internet and make it more socially engaging.
Some say a Facebook-led social web will make online browsing more convenient.
As the entire internet becomes more tied with a person's social network, you'll get more recommendations that can help you find web pages you'll enjoy. Plus, Facebook is making it ever-easier to share with friends. All you have to do now is click a button that says "like."
Others say the Facebook model gives one company too much power.
"They're holding all of our data. We have to trust them not to sell it to the world," said Ricky S., an app developer who works with Facebook and didn't want his full name used because he wasn't authorized to speak for his company.
And what does Facebook say about it's ambitions?
CEO Mark Zuckerberg said his goal is to make the web a better place. If his site happens to make more money by selling ads on Facebook.com, then so-be it.
In closing his keynote address at f8, he used a metaphor of his own, comparing the future web, as led by Facebook's social infrastructure, to heaven.
"There's an old saying that says that when you go to heaven, all of your friends are there and everything is just the way you want it to be," he said.
"So, together let's make a world that's that good."
What do you think? Is Facebook on the way to becoming the web's plumbing? Can it compete with Google? Should any private company have so much power?
Let us know with comments on this post.
Posted by: John D. Sutter -- CNN.com writer/producer
Filed under: Facebook