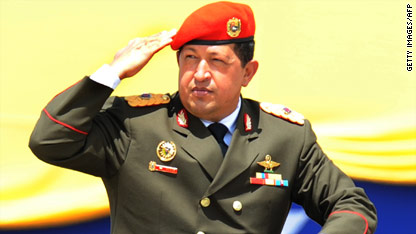 Of course celebrities like singer Britney Spears are on Twitter.
And it even seems expected at this point that Barack Obama, arguably the techiest president in U.S. history, would have a presence on the micro-blogging service.
But Hugo Chavez?
According to Bloomberg, the Venezuelan president - one of the most controversial world leaders– is planning to join Twitter.
Not only that. He wants to dominate it.
"Comandante Chavez is going to open his Twitter account soon to wage the battle online," Diosdado Cabello, head of the country's telecommunications regulator, said on state television, according to the news organization.
"I'm sure he'll break records for numbers of followers."
Chavez said in March that he plans to use the web to interact with critics, according to Sky News.
"I'm going to have my online trench from the palace to wage the battle. I'll provide information and even respond to my enemies," Chavez said, according to that news site.
Posted by: John D. Sutter -- CNN.com writer/producer
Filed under: Twitter