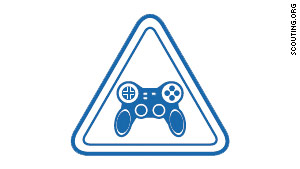 Cub Scouts: The term conjures images of kids doing stuff outside – hiking amid nature, tying knots or identifying which leaf will leave you scratching if used for the wrong purpose.
Well, times have changed. In a move that may horrify old-school former Scouts, the Boy Scouts of America has announced it will offer two awards – a pin and a belt loop – to boys who spend hours playing video games.
Yes, that's right. Just picture a group of 8- to 10-year-olds huddled around not a campfire but a TV, that glowing box of complacency.
Apparently these new awards are geared toward making Scouts understand which games are appropriate for their age group, not just rewarding them for sitting around on their butts playing video games. Scouts also can work towards their pin by playing a video game that "helps you in your schoolwork."
But you still have to wonder if this isn't a misguided attempt by the Cub Scouts to stay relevant by pandering to boys' interests. Seems to me the Scouts should be getting kids outside and teaching them practical skills beyond the bubble of their everyday lives instead of how to read the back of a video game box.
It reminds me of some "Star Trek" episode where a civilization has become so reliant on technology that they have no practical know-how and can't fix it when it breaks - picture Picard MacGyvering a computer with a paper clip so the planet doesn't explode.
Those of you who were in the Scouts, what's your take on this? Should today's Cub Scouts be rewarded for playing video games? What badge or award were you most proud of earning?
Posted by: Cody McCloy
Filed under: Games • Gaming • pop culture • video games