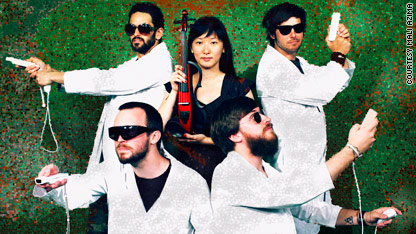 Karyn and the Wiitles
Editor's note: Geek Out! posts feature the latest and most interesting in nerd-culture news. From scifi and fantasy to gadgets and science, if you can geek out over it you can find it on Geek Out! Look for Geek Out! posts on CNN's SciTech blog.
Remember the moment Arnold Poindexter made jaws drop in the 1984 hit "Revenge of the Nerds," when he picked up his electric violin and brought the rock at the Lambda Lambda Lambda/Omega Mu talent show? It was an impressive transformation from "zero" to "hero." Was it possible geeks could be rock stars too?
The answer is yes (of course!), and this Thursday through Saturday, there will be plenty of geeking out over music and technology. Some of the best electronic musicians from all over the country will be converging in Atlanta, Georgia for the Third Annual City Skies Electronic Music Festival, where musical styles will range from "ambient to downtempo chillout to Berlin school to IDM to space music to experimental." (Full disclosure: I'm one of those musicians getting ready to rock out.)
I'm a classically trained violin player, and I'll be collaborating on a performance at the festival with The Wiitles, "the world's first and only Wii remote rock band." It's going to be symphonic, discordant, alternately familiar yet alien, and yes, uber geeky. In fact, every time I plug in my (yep, electric) violin and my collaborators pick up their Wii remotes, I feel like we're kind of creating a new language.
As a string player, some of my heroes include artists like Andrew Bird, Owen Pallett and Zoe Keating, who hook their instruments up to an array of electronics like loop pedals in order to create layer upon layer of rich, complex patterns in real time. Check out this great Radiolab podcast where Keating describes how she marries cello + laptop + electronics. On the more experimental/performance art side, Laurie Anderson famously invented, in the late 70s, a tape-bow violin using recorded magnetic tape on the bow and a magnetic tape head in the bridge.
The Wiitles sort of take all this to another level by turning Wii remotes into instruments and programming the buttons to trigger samples, loops, scenes and effects in a live setting (check out this animated video intro). They capitalize on the accelerometer and Bluetooth technology that come with every Wii remote, which allow the device to sense acceleration along three axes to detect pitch and roll.
The data obtained from the accelerometers and the different buttons are transmitted via Bluetooth and picked up by a Macbook Pro, where the data is converted for use by software that manipulates audio. Like Pallett and Keating, the Wiitles use Max/MSP (which can convert incoming data to MIDI), and also Osculator to make MIDI conversions and use that data to manipulate Ableton Live, a music sequencing program. Using Ableton Live, the potential for audio manipulation is limitless.
What this means for me is that I can take the familiar sound of my violin to some really strange, ethereal and warped places. For example, knocking against the side of the instrument near the pickup creates a hollow percussive sound. Running my fingers repeatedly over the strings sounds hauntingly like someone sighing. Playing fiddlesticks (adopted from a Cajun fiddle tradition where another band member strikes the strings on the upper fingerboard with thin sticks while I play) triggers a sound like marbles scattering across linoleum. All of this can be manipulated and incorporated into the music in real time during the performance.
Innovative technological appropriations have allowed us to marry classical and experimental music in surprising and wonderful ways. What are some of your favorite examples in this realm? Share your feedback in the comment section – we'd love to hear from you.
Posted by: Karyn Lu -- CNN.com Site Development Manager
Filed under: gadgets • Geek Out! • technology • Uncategorized